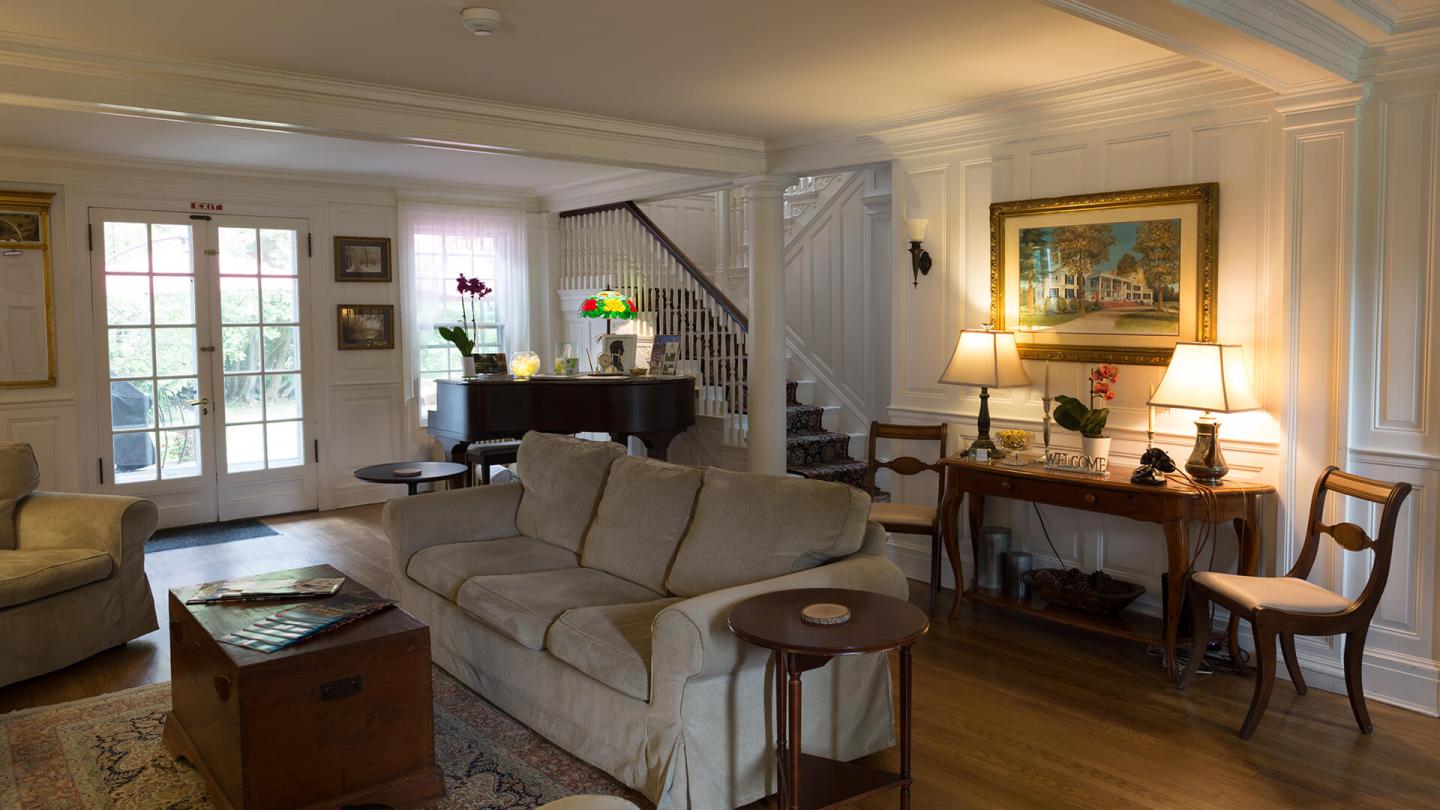 The Inn at Stockbridge
Stockbridge, Massachusetts
Rooms
Every room at The INN at Stockbridge is equipped with free Wi-Fi, a flat-screen TV and DVD player, air conditioning, and comfy bathrobes. And not to brag, but the sheets are so soft you will feel like you are sleeping on a cloud. The Main House has 8 suites, the Cottage House and Barn each have 4 suites. Whichever of our rooms you choose, The Inn at Stockbridge offers the quintessential Berkshires bed and breakfast experience which also includes a home-cooked breakfast each morning and wine and cheese Happy Hour every evening. The INN at Stockbridge is the where to stay in the Berkshires. Thoughtful touches can be found throughout the property and we will go out of our way to make your stay perfect. Our attention to detail is what sets us apart from many of the other hotels in Stockbridge.
Explore  the lodging options at The Inn at Stockbridge
Main House: Traditional Massachusetts Bed & Breakfast Guest rooms
Cottage House: Dog Friendly Berkshires Lodging. Suites offer plenty of space and privacy
The Barn: Looking for a Berkshires AirBnB? Explore our Barn Suites:
Location
The Inn at Stockbridge
30 East Street
Stockbridge, MA 01262
United States
Phone: 413-298-3337
Toll Free: 888-819-2373
Offers
Exclusive use of the grounds or Inn.(living room, library and dining room) for wedding couple and up to 15 guests. Our Micro Wedding Package Includes: Tea & Coffee...
Offer Valid: -
Couple plus up to 2 guests Elopement package includes: Minister Small wedding cake Bottle of Champagne for Champagne toast China, forks, crystal, white cloth napkins for reception cake...
Offer Valid: -
When you just need to be pampered, stress no more… come to the Inn at Stockbridge and stay in our luxurious suites and add the Warmth and Wellness...
Offer Valid: -
Weddings
The Perfect Berkshires Wedding Venue
Planning a Berkshires Wedding? The Inn at Stockbridge's romantic setting and sprawling property provides an ideal destination wedding for couples who love the rustic aesthetic of the mountains, yet prefer the luxury of refined accommodations and amenities. Our property, situated in the Berkshire Mountains, offers a variety of spaces and locations for everything from the welcome party, to your ceremony, reception, and newlywed brunch. The Innkeepers, your wedding planning partners, will be there every step of the way to help with all the fine details of your special day. Choose the Inn at Stockbridge for your perfect Berkshires wedding venue and get ready for a day to remember forever.
On-Site Wedding Capabilities
Choose one of our charming settings for your ceremony. Outside spaces include 6 acres of lawns, meadows, forests, wraparound porches, patios, and a beautiful pool area among the trees. While the wedding photographer captures every moment of your special day, your guests will enjoy strolling the grounds and exploring the garden.
Inside you may choose to exchange vows in front of a roaring fire in the library or living room, or at the base of the stairs next to the grand piano.  The dining room room serves as a lovely indoor reception area as well.
Pre-wedding prep for the bridal or groom's party is a special time when the bride or groom-to-be gets to spend quality time with their bridesmaids and groomsmen. Book spa treatments through our on-call network of massage and spa therapists and spend the morning being pampered and sipping mimosas.
Inn Elopement Package - Couples plus up to 2 guests 

Micro Wedding Package- Couple plus up to 15 guests

Wedding - Couple plus up to 30 guests

Dream Wedding - Couples up to 30 guests
Groups
Gather in the Berkshires. No matter the season, the Berkshires offer plenty of opportunities for things to do including lots of outdoor adventures.