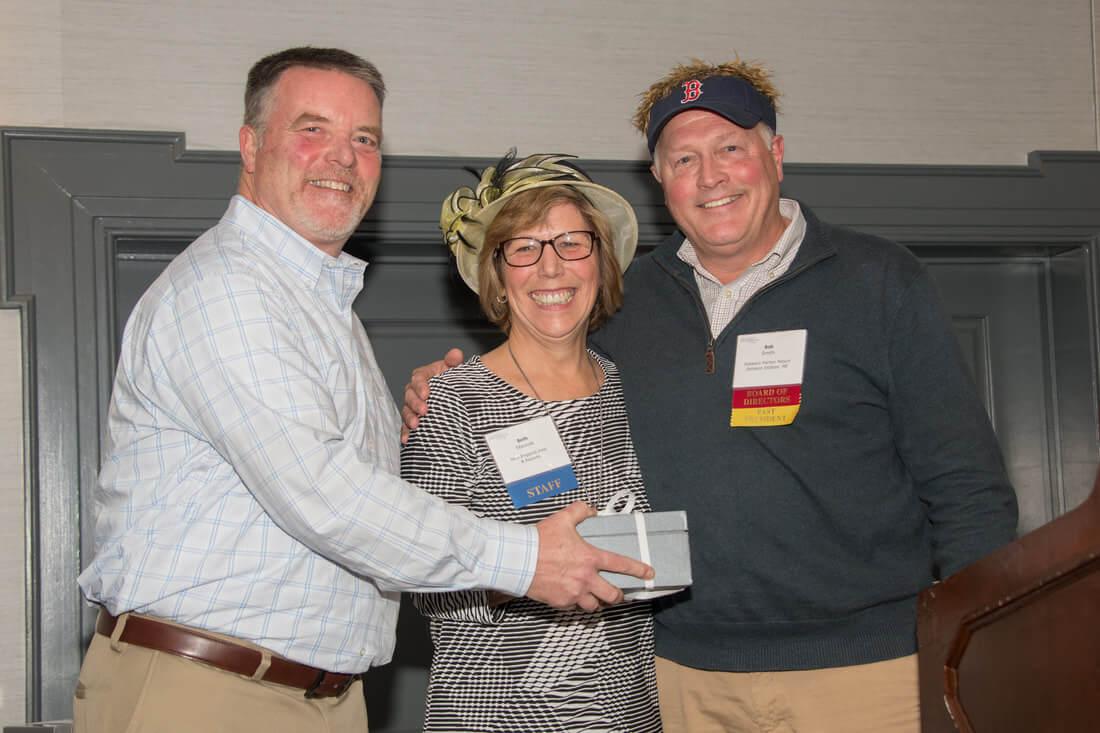 The Master of New England Innkeeping Lifetime Achievement Award
pictured above: Bob Smith, Sebasco Harbor Resort 2018 recipient of the Master of New England Innkeeping Lifetime Achievement Award 
The highest honor presented by the Association, The Master of New England Innkeeping Lifetime Achievement Award honors hospitality professionals who have made a lasting contribution and left an indelible mark on the culture of New England hospitality.   Nominated by their peers, these individuals are known for a unique brand of hospitality that resonates with guests and staff and creates a one-of-a-kind experience at their properties. They are leaders and mentors, becoming both a resource for and inspiration to future generations of hoteliers and innkeepers. 
Past Winners
Karl Abbott, Innkeeper and Author of "Open for the Season"

LG Treadway, Treadway Inns in MA 

Randall Spalding, The Spalding Inn, NH

Margaret and James Smith, Wentworth by the Sea, New Castle, NH

Louise and Borden Avery, The Lake Morey Inn, Fairlee, VT 

Warren Pearson, The Balsams Grand Resort Hotel, Dixville Notch, NH 

Mary and Robert Stone, The Lighthouse Inn, West Dennis, MA

Nancy Gray, Harraseeket Inn, Freeport, ME and Mystic Inn, Mystic CT 

Roger Saunders, The Lenox Hotel, Copley Square Hotel and other regional hotels in New England  

Steve Barba, The Balsams Grand Resort Hotel, Dixville Notch, NH

Maureen McQuade, Inn by the Sea, Cape Elizabeth, ME

The Dunfey Family, Dunfey Hotels in New England

Bev Davis and Rick Litchfield, Captain Lord Mansion, Kennebunkport, ME

The Beach Family, Basin Harbor Club, Vergennes, VT  

Fritz Koeppel, Wentworth, An Elegant Country Inn, Jackson, NH 

Rusty McClear, Mill Falls at the Lake, Meredith, NH 

Robert "Bob" Smith, Sebasco Harbor Resort, Sebasco Estates, ME

John Murtha, Omni Parker House Hotel, Boston, MA 

 Leslie & Brian Mulcahy, Rabbit Hill Inn Waterford, VT 
2022 Recipients
Leslie & Brian Mulcahy, Rabbit Hill Inn Waterford, VT - NEIRA Annual Conference | November 2, 2022 | Omni Mount Washington Resort, Bretton Woods (NH) 
2019 Recipient
John Murtha, Omni Parker House Hotel Boston, MA -  Annual Conference Samoset Resort Rockland, ME October 30, 2019
2018 Recipient
Bob Smith, Sebasco Harbor Resort 
Innovator Award
pictured right: Mark Novato, Wequassett Resort and Golf Club 2018 recipient of the Innovator Award
New England Inns & Resorts Association honors outstanding individuals, properties or management companies through our Innovator Award. Award recipients are creative thinkers and innovators in the areas of sales, marketing, PR, revenue management, design, operations, guest services, technology, etc.  A person or property who has gone beyond standard practice to improve overall hotel operations, increase guest satisfaction or loyalty and brand reputation.  
Past Winners
2022 - Lou Carrier, Distinctive Hospitality Grouop and Rachel Vandenberg, Sun & Ski Inn and Suites
2019 - Rob Blood, Owner & Founder, Lark Hotels and Rauni Kew, PR & Marketing Manager, Inn by the Sea
2018 - Mark Novota, Managing Partner, Wequassett Resort and Golf Club
NEIRA is accepts award nominations on an ongoing basis. 
Use the links below to submit a nomination
Additional Honors
Legacy Members:
An individual who has been an Active Member of the Association for a minimum of ten years and has retired from the innkeeping business. Any Past President who is elected to Legacy Membership may still remain on the Board of Directors and shall still have the right to vote.  Legacy Members shall not be required to pay assessments or dues, shall be entitled to all social privileges of the Association, but shall not have the right to hold office or vote. 
Honorary Members: 
Individuals who are serving in positions that compliment the goals and objectives of the association.  Honorary Members will be elected annually by the Board of Directors.   List of Honorary Members