13 Fall Cocktail Recipes Ripe for the Picking
If you enjoy stuffing as many pumpkin-picking, leaf-peeping, cider-sipping pastimes into your autumn itinerary as possible, you're not alone — and for many of us, it's a passion we take all the way to happy hour. When life hands you apples (or maple syrup and a dash of nutmeg) make one of these fall cocktail recipes to cap off the perfect night during this colorful post-summer season.

1. A Liquid Harvest
For a taste of apple that bites back, throw together this harvest of maple, apple, and rum from Charlie B's at the Stoweflake Mountain Resort & Spa.
What You Need:
1.5 oz Smuggler's Notch Distillery Bourbon Barrel Aged Rum
.5 oz. Green Mountain Organic Maple Liqueur
A splash of Cold Hollow Apple Cider
Cinnamon stick
Cinnamon, sugar, nutmeg for the rim
How to Make It: Combine your rum and maple liquor in a cocktail shaker. Add a splash of apple cider, shake to combine, and serve on the rocks in a highball glass. For an extra dose of fall flavor, rim the glass with a cinnamon, sugar, and nutmeg blend. Add a slice of apple and a cinnamon stick for garnish.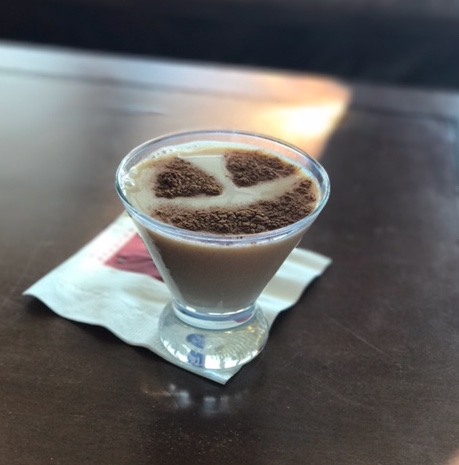 2. Pumpkin Up the Volume
Don't wait until Thanksgiving dinner to indulge in pumpkin pie — savor the flavors with a creamy pumpkin-infused cocktail from Beauport Hotel Gloucester.
What You Need:
2 oz. Vespertino Tequila Crema
2 oz. Spiced Pumpkin Puree
1 oz. Crop Organic Spiced Pumpkin Vodka
Cinnamon to sprinkle
How to Make It: Add all ingredients to an empty shaker. Shake it up and strain into a chilled coupe glass, using a stencil to dust the cinnamon if desired.
3. Mapletentini
Between Bailey's Irish Crème and the seasonal flavors of maple and pumpkin, this martini from The Beachmere Inn makes the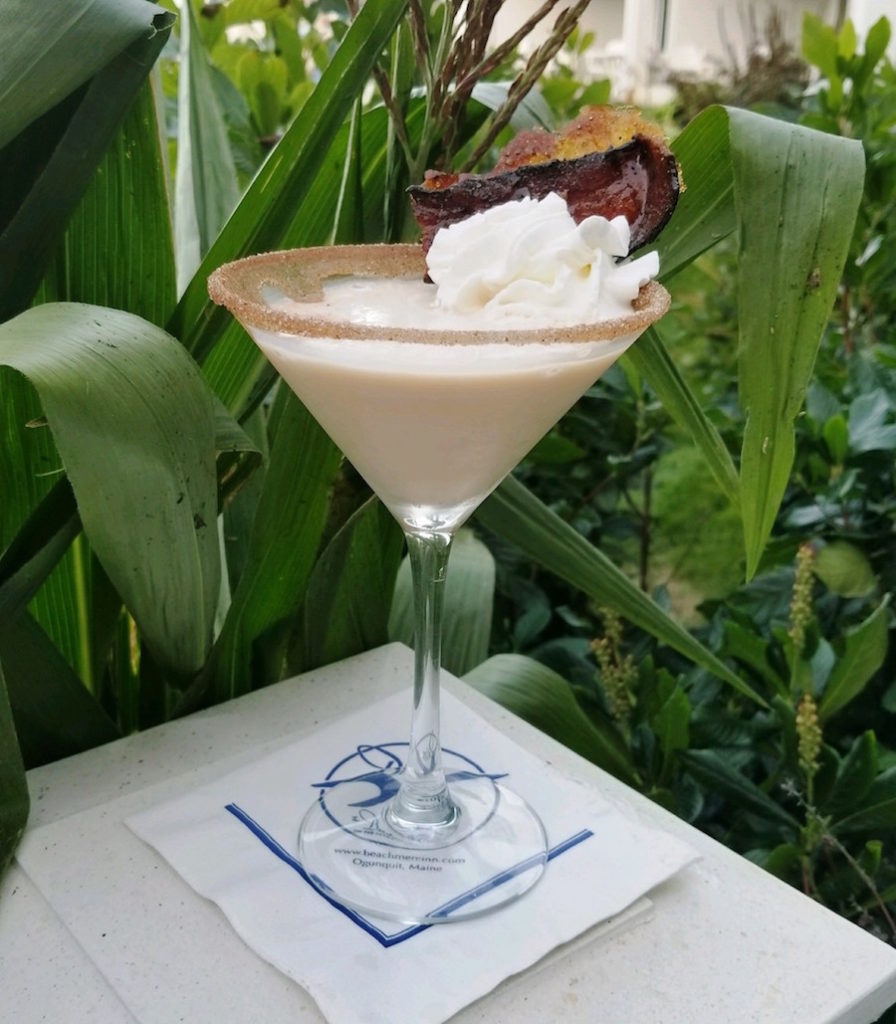 perfect partner for those transitional days between the last fallen leaves and the first snowflakes.
What You Need:
1 oz. Crown Royal Maple
1 oz. Bailey's Irish Crème
1 oz. Pumpkin Sauce
Dollop of Whipped Crème
Maple Syrup (for rim)
Cinnamon, sugar and nutmeg mixture (for rim)
Optional: Candied Bacon Strip
How to Make It: In a Strainer Cocktail Shaker, shake the first three ingredients well over ice until chilled. Before pouring into the Martini Glass, dip the rim into the maple syrup and then the cinnamon, sugar and nutmeg mix. Pour the liquid into the glass and add a dollop of whipped crème. For a final (optional) garnish, add a piece of homemade candied bacon.
4. Fallen Apple
A small handful of strong flavors is all you need to create The Inn at Manchester's cran-tastic take on fall cocktail recipes.
What You Need:
1.25 oz. bourbon
.75 oz. cranberry syrup
3 oz. apple cider
1 orange juice peel
How to Make It: Combine all ingredients, mix thoroughly, and serve over ice. Garnish with an orange wedge or apple slice.
5. Autumn Harvest
Crisp and fresh, much like its surrounding at Ocean Edge Resort & Golf Club, this fall cocktail recipe may just capture the brisk autumn breeze of Cape Cod in a glass.
What You Need:
2 oz. vodka
Dash lemon juice
1 tsp. maple syrup
1.5 oz. apple juice
How to Make It: Combine all ingredients in a shaker and shake well. Serve in a highball glass over ice and garnish with a fresh apple slice.
6. The Sapling
A taste of Vermont's Saxtons River Distillery adds a taste of quintessential New England fall to this martini from The Breakwater Inn and Spa.
What You Need:
1 oz. Sapling Vermont Maple Liqueur from Saxtons River Distillery
1 oz. Meyers Gold Rum
1 oz. Carpano Antica Sweet Vermouth
.5 oz. Fresh Squeezed Lemon Juice
A few dashes Angostura Bitters
Lemon twist
How to Make It: Combine all ingredients in a cocktail shaker. Shake well and serve in a martini glass with a lemon twist.
7. The Leaf Peeper
If you want to really get into Halloween spirits, make your sweet tooth sing with this martini from Mountain Club on Loon's Guy Wishart, bartender at the Black Diamond Pub on Loon.
What You Need:
1.5 oz. of Irish Mist
1.5 oz. of Drambuie
.25 oz. of Salted Caramel
Rimmed with caramel syrup, cinnamon, nutmeg, allspice, 
maple sugar and candy corn
Garnished with two Peeps Marshmallow Pumpkins
How to Make It: Thoroughly combine the first three liquid ingredients in a martini glass. Mash together your rim ingredients of choice and rim the edges of the glass, garnishing with Halloween Peeps.   
8. Harvest Cream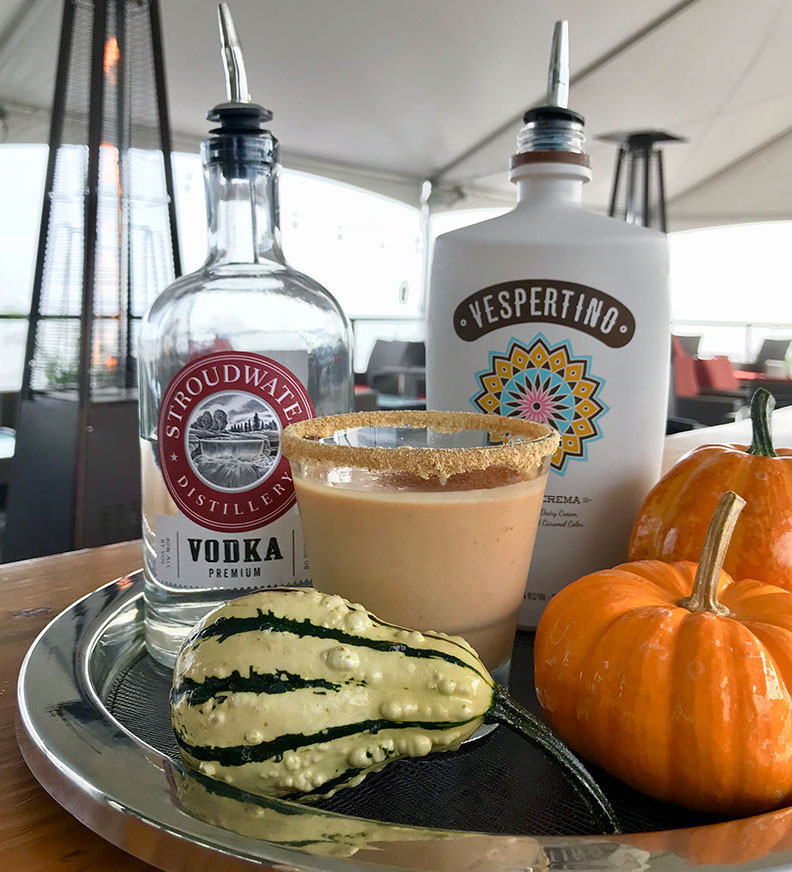 Craft yourself a graham cracker rimmed glass full of flavorful pumpkin, vanilla, and spices and you'll be as happy as a clam (like those found along the coast of this fall cocktail's creator — 16 Bay View).
What You Need:
2 parts vespertino
1 part stroudwater vodka
3-4 tbs. pumpkin purée
.5 oz. Vanilla Bean Simple Syrup
2 pinch nutmeg
1 pinch clove
How to Make It: Shake all ingredients with ice and serve strained in a rocks glass with a simple syrup and graham cracker rim, with a dash of cinnamon.
9. Oak & Grain Autumn Apple Cider Mojito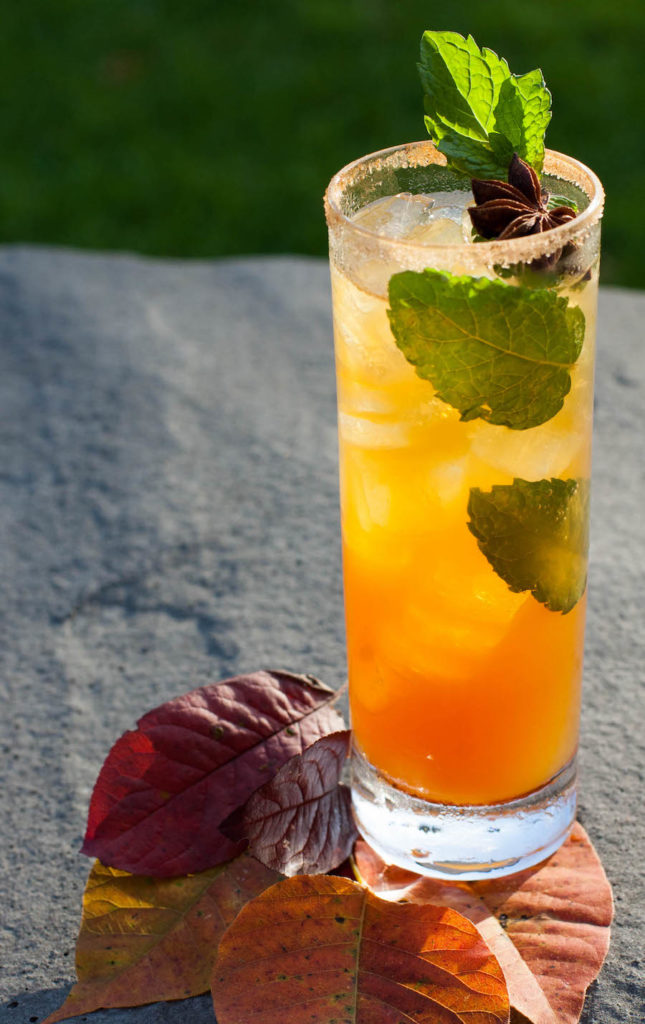 For a refreshing spin on the classic mojito, whip up a fall cocktail that's as pleasing to the leaf peeper's eye as the real deal. For a true New England flavor, stick to the local ingredient list from the Inn at Pleasant Lake's Oak & Grain Restaurant.   
What You Need:
4 oz. New Hampshire Cider Works Apple Cider
3 oz. Bully Boy Boston Rum
1.5 oz. Cinnamon Simple Syrup
3 Mint Leaves
Mint, Star Anise, Sugar & Cinnamon Rim, as garnish
How to Make It: Start by filling a Collins glass with your sugar and cinnamon mixture, and fill it with ice. Mix the cider, rum, mint leaves, and cinnamon simple syrup in a shaker. Shake gently and pour into the glass, garnishing with a fresh mint leaf and one whole star anise.
10. November 1307
November 18, 1307 marks the date where legendary William Tell saved his life, as well as his son Robert's, by hitting an apple off the top of the boy's head with a crossbow. For a fall cocktail that hits the mark with apple cider, syrup, and donuts (with it's own origin tale, to boot) mix up a round of November 1307 for fall guests and share Field Guide's inspiration behind the name.
What You Need:
1.5 oz Jim Beam
.75 oz Apple Syrup
.75 oz Lemon Juice
2 oz Apple Cider
1-3 Sugar bruleed Cider donut holes
1 Apple slice
How to Make It: In a shaker, combine your bourbon, apple syrup, and lemon juice. Shake well and strain over ice in a Collins glass, then top it off with apple cider. Take a fresh cider donut hole and roll it in sugar. Skewer the donut on a thick skewer and brulee with torch, then add your apple slice. Lay on top of drink (but don't soak it) to resemble an arrow through an apple.
11. Caramel Apple Martini
On a crisp Connecticut day by the water, no fall cocktail is more appealing (or photo-worthy) than this sweet-yet-sour martini from the Madison Beach Hotel.
What You Need:
3 oz. grey goose
1.5 oz. sour apple
1.5 oz. vanilla simple syrup
Caramel Sauce for garnish
How to Make It: Begin by making vanilla simple syrup using 1 part water, 1 part sugar, and 1 part vanilla bean extract. Garnish a martini glass by adding cinnamon sugar to the rim, drizzling caramel inside the glass, and perching an apple slice coated in cinnamon sugar on the rim. Mix all ingredients in a cocktail shaker over ice and shake vigorously before straining the liquid into your glass.
12. Autumn Toddy
There's no predicting our New England autumn weather, and on those especially chilly evenings we'll be reaching for a sip of something warm and sweet — like this toddy recipe from Migis Lodge.
What You Need:
1.5 oz of Knob Creek
1 oz. of cinnamon or black tea infused simple syrup
2 dashes of Angostura bitters
Lemon wheel and cinnamon stick for garnish
How to Make It: In a glass mug, add your whiskey, simple syrup, and bitters. Fill the rest of the glass with hot water and garnish with a lemon wheel and cinnamon stick.
13. Spiced Apple Mir'bucha
Tea drinkers are in for an autumnal treat with this refreshing kombucha infused cocktail recipe from the Mirbeau Inn & Spa. Visit the property for a taste of even more terrific tea-infused cocktail takes, like the equally festive Cranberry Harvest Mir'Bucha.
What You Need:
1.5 oz. apple cider
1.5 oz. spiced rum
2 dashes of simple syrup
Apple Kombucha, to top it
Cinnamon baked apple slice, for garnish
How to Make It: Combine your first three ingredients in a glass, over a scoop of ice. Fill the remaining space with your preferred apple-flavored kombucha and garnished with a baked apple slice.  
Although we highly suggest crafting your favorite fall cocktail recipes from this list right in your own home, they're even better paired with an ingredient you can't find on any store shelf — the autumnal atmosphere and breathtaking scenery in and around our New England inns and resorts. Take a sip straight from the source on your next visit and if you miss out on the season of fall flavors, don't worry — we have you covered well into the spirits of winter and spring.