5 Breweries in CT to Visit This Fall
Connecticut may have been fashionably late to New England's craft beer party, but the Constitution State is now making up for lost time. Our favorite breweries in CT are relatively new—most kegged their first batches in the last five years—and dedicate themselves to quality over quantity. Grab your growler and get ready to taste some of the finest craft beers around, from classic IPAs to experimental barrel-aged concoctions.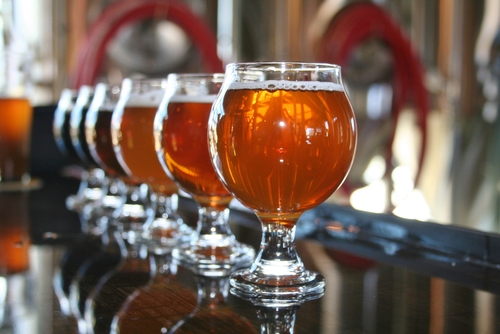 Beer'd Brewing Company - Stonington
Beer'd Brewing takes its punny name to the extreme with mustachioed pint glasses and fun photo booth props, but it's what's inside those glasses that counts. Full-flavored IPAs are their specialty — Boston Magazine recommends the Hobbit Juice DIPA. Open to the public Friday through Sunday, this Connecticut brewery offers a free taste of each available variety, and its fun, upbeat atmosphere pairs well with a couples' getaway to the shore. Unlike many other craft beer tasting rooms, Beer'd is also licensed to serve full pints on the premises in addition to the standard growler exchange. Stay at the nearby Inn at Stonington for a truly relaxing weekend.
Cottrell Brewing Co. - Pawcatuck
Just five miles up the road from Stonington, Cottrell Brewing Co. is a convenient addition to your southern Connecticut beer tour. Like Beer'd, they offer growler fills and free tastings. Owner Charlie Buffum picked up his passion for craft brewing in London and came back stateside to perfect his go-to staple, Old Yankee Ale. Since then, the team has gotten more creative — visitors to the tasting room can sample weekly nano brews not available anywhere else.
New England Brewing Company - Woodbridge
Like fellow IPAs considered world-class by the readers of Beeradvocate, Fuzzy Baby Ducks is tough to come by. It's only distributed in Connecticut, and only to certain establishments. New England Brewing Company was an early pioneer among craft breweries in CT — their extra years of experience have led to truly polished recipes and extreme popularity. If you're considering a pilgrimage to this craft beer landmark, treat yourself to luxury boutique accommodations just over a half-hour away at Inn at Middletown.
Ordinem Ecentrici Coctores (OEC) - Oxford
Bloomberg Business considers OEC among the top 10 breweries in all of New England, and it's certainly one of the most unique breweries in Connecticut. Set apart by a commitment to experimentation, these self-identified "eccentric brewers" aren't afraid to age a tried-and-true recipe in a different barrel or infuse fruits like lemons, peaches, and raspberries. Stop by on a Saturday when the tasting room is open and expand your understanding of what makes a truly top-notch beer. Compliment your newfound brews with fantastic views at Madison Beach Hotel, a 35 minute drive along the coast from the brewery.
Thomas Hooker Brewery - Bloomfield
Thomas Hooker Brewery is on the larger end of the craft beer spectrum, but the brewery maintains a down-home atmosphere, offering tours every Saturday and a fun open house on Friday evenings. Its small-batch recipes have earned national acclaim — keep an eye out for their Chocolate Truffle Stout come the colder months. Stay at the nearby Avon Old Farms Hotel for a quick-and-easy getaway from Hartford.
Getting thirsty thinking about these four breweries in CT? You might be a prime candidate to blaze the Connecticut Beer Trail, a set of tasting rooms sure to impress even the most experienced craft beer lover. If you're ready to plan your tour, explore our favorite places to stay in Connecticut.
You might also like...