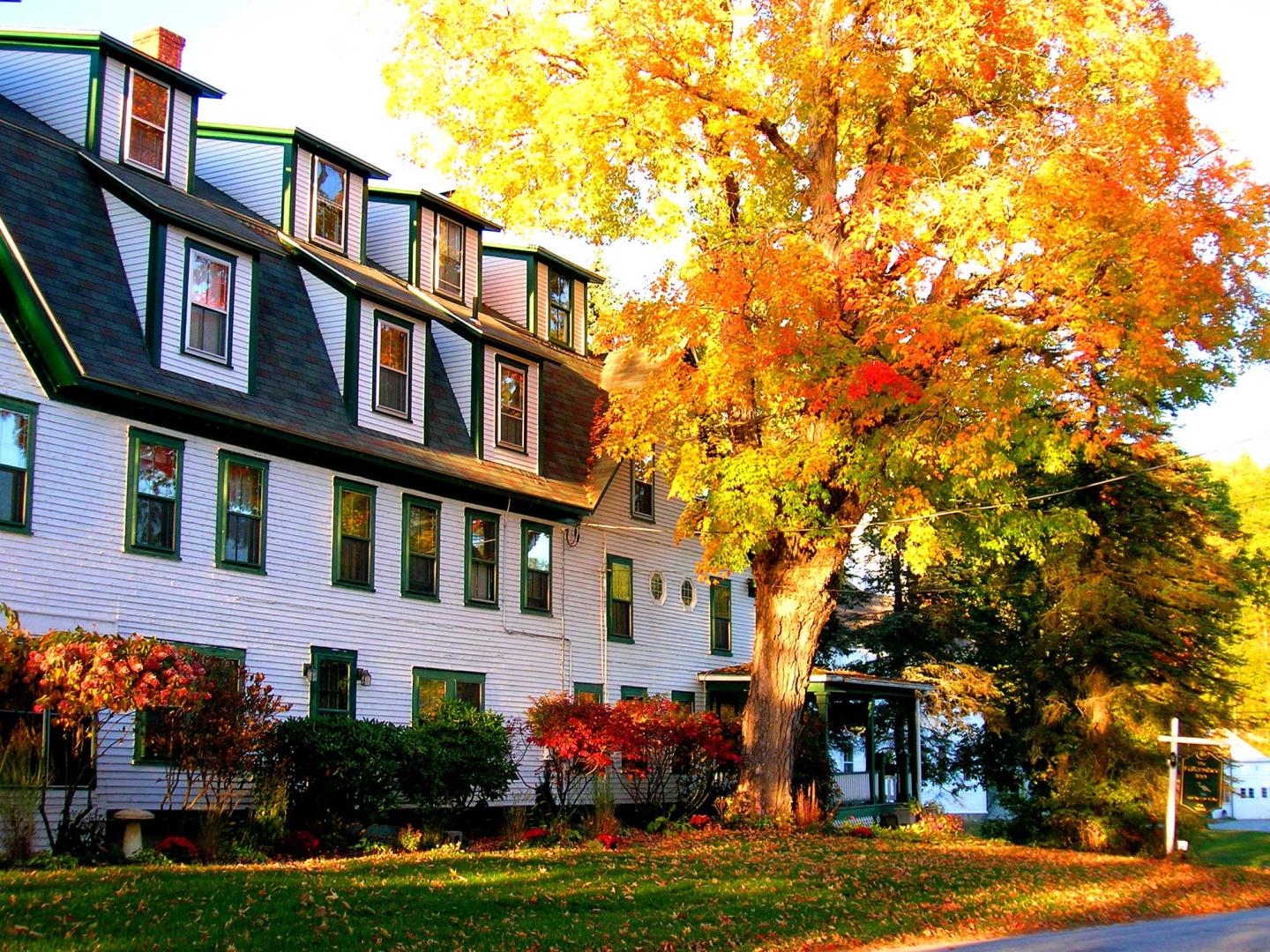 NH Follansbee Inn
5 Great Vacations on New Hampshire Lakes
In our humble opinion, everyone deserves a summertime lake vacation. From the still, quiet mornings to sunsets that glint off rippling water, just saying "the lake" conjures up an irresistible picture of summer in New England. Stay on the shores of the best New Hampshire lakes with one (or all!) of these five NH lake vacations.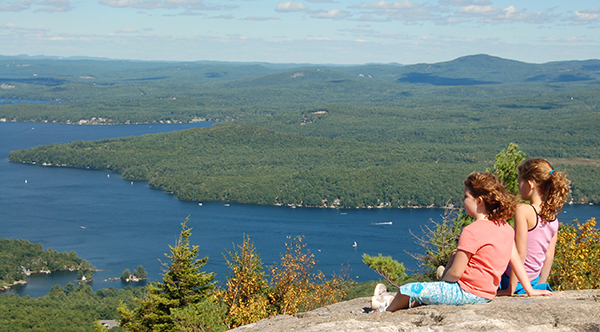 Lake Winnipesaukee
Lake Winnipesaukee (say "win-ah-puh-sockey") is the largest of New Hampshire's lakes, and probably the best known. Winnipesaukee means "beautiful water in a high place" — an apt description for this spring-fed lake circled by mountains. It has welcomed refugees from sweltering city streets for more than a century, and now is home to some of the best resorts and hotels for a New Hampshire lake vacation. Visitors to this NH lake can explore some of its 274 islands by kayak or canoe, swim at a beach, hike in the surrounding hills, and stroll through its personality-filled villages.
Meredith, N.H.
Many people start their tours of the New Hampshire lakes in Meredith, NH, and with good reason. A beautiful town curling around a protected bay on the northwestern edge of the lake, Meredith's white clapboard mill buildings tell a little of its past. Anchoring the town is Mill Falls at the Lake, a resort that incorporates a restored 19th century linen mill and a former church into its four inns, restaurants, a spa, and lots of waterfront real estate. Paddling, swimming, and fishing can are just steps away, and sailboats and lake tours leave from the town's piers. The resort even hides away a Couples Beach for those seeking a little romance.
Wolfeboro, N.H.
On Winnipesaukee's opposite corner sits Wolfeboro, which claims the title of "America's Oldest Summer Resort" and has seen its share of famous faces. Like Meredith, the town clusters around a calm bay with the promise of all kinds of watery fun. With a sandy private beach, beautiful views of the lake, and a central location, the historic Wolfeboro Inn is a good choice for vacationers hoping to feel some of the romance of the old-fashioned resort town (without sacrificing wi-fi, comfy beds and luxurious, modern rooms). If you're visiting the Lake Winnipesaukee area in June, you can't miss Laconia's Annual Motorcycle Week. This spectacle, which has its roots in 1916, is a can't miss lakeside event.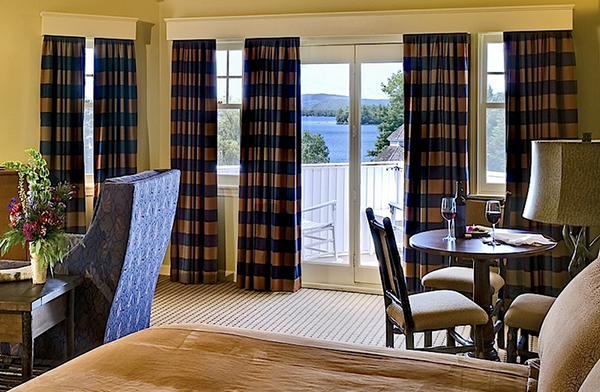 Kezar Lake
Winnipesaukee is by no means the be-all and end-all of the New Hampshire lakes, however. Venture away from its shores and you'll find friendly, quiet waters. To the west, Kezar Lake has one of the oldest lakeside communities in the area — its shores are lined with plenty of beautiful old homes. The cozy Follansbee Inn is one of these former homes, and guests have the opportunity to explore Kezar Lake and Blueberry Island with free use of the Inn's boats and bicycles. When sunburn strikes (inevitable on a lake vacation), the inn is surrounded by shady hiking trails.
Lake Sunapee
To the west of Lake Kazer lies New Hampshire's fifth largest lake, Lake Sunapee. This gorgeous spot is famous for its fishing and birding opportunities — the lake has been known to host up to forty loons at a time. Experience this charming, secluded corner of the state at the Mountain Edge Resort & Spa at Sunapee where you can enjoy four seasons full of activities right from its front door.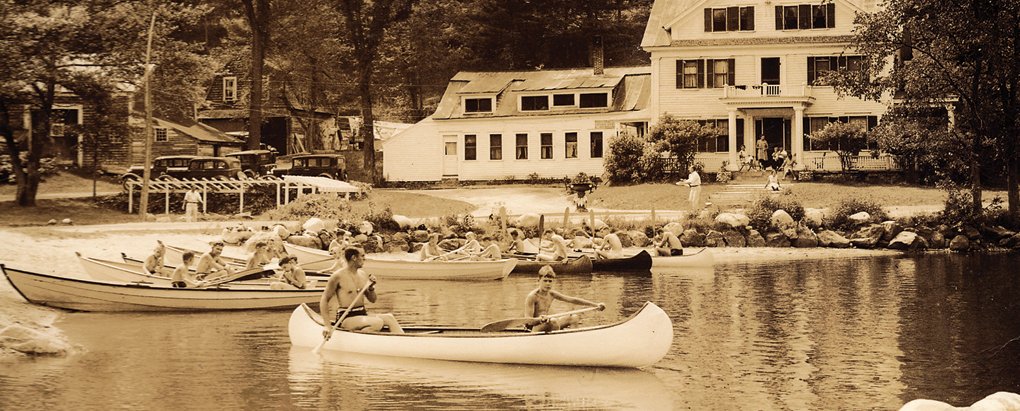 Purity Lake
For a New Hampshire lake vacation that feels something like an upgraded version of your favorite childhood summer camp, head to Purity Spring Resort on the eastern side of the state. Five generations of the Hoyt family have carefully built it into a year-round retreat on Purity Lake. The lake-vacation-classics are all there — complimentary canoeing, hiking, swimming, fishing, and games — with some bells and whistles, like waterskiing, guided tours of the area, massage therapy, and an indoor pool & fitness center. Meals (including the popular beach-side Breakfast Cookouts and island Lobster Bakes) are part of the package, and flexible accommodations make the resort a simple choice for an easy family trip or a larger family get-together. Ready to jump in? Photos: Sharon Ward (NHDTTD); Boathouse Lodge at Mill Falls on the Lake; Wolfeboro Inn; Purity Spring Resort