5 of the Best Anniversary Getaways in New England
New England has no shortage of romantic recesses to choose from, but we're curious to know which destinations our Facebook fans favor the most for anniversaries. Do couples flock to their honeymoon stomping grounds or shift their gaze to new locations each year? To find the answer, we've asked our long-term lovebirds to help us highlight which New England areas make the best anniversary getaways.

Northern Vermont




Country Road in Northern Vermont | Photo: Peter Rintels via flickr/ CC BY-ND 2.0
Northern Vermont has a few romantic tricks up its sleeve, and sunsets along the Lake Champlain waterfront are only the beginning. Home to the state's largest mountains, beautiful rural landscapes, and countless bodies of water, the scenic contrasts of the region easily earn it a spot as one of the best anniversary getaways in New England. Anniversary agendas can be equally as diverse here, with Burlington's small city vibe on the western side and the Northeast Kingdom's serene environment to the east. No matter which side you settle on, every area boasts delicious local food, brews, and an abundance of outdoor scenery to admire and explore.
Lodging Options: Properties in Northern Vermont are as contrasting as the scenery, with resorts for luxurious stays or quaint countryside inns for a rustically romantic experience
Southern Maine Beaches




Ogunquit, ME | Photo: Jennifer Kirkland via flick / CC BY-ND 2.0
If you prefer being swept away on a romantic retreat by the sea, take to Maine's southern beaches. Anniversary escapes here can come in the form of quiet walks along beautiful beaches, clamoring aboard a duo sea kayak adventure, or simply sharing a lobster dinner for two with a view. To really fan the romantic flames, set aside time to enjoy some of the most vivid sunrise and sunset spots in the state.
Lodging Options: Within a convenient two-hour drive, couples traveling from Boston can take a scenic trip up the New England coast to Ogunquit, Maine. Alternatively, head a bit further north on Route 95 to spend an anniversary in the summer playground of Kennebunkport, Maine.
White Mountains, New Hampshire




Jackson Honeymoon Covered Bridge | Photo: Tony Hisgett via flickr / CC BY 2.0
With quintessential New England charm like Jackson's Honeymoon Covered Bridge, we aren't surprised that our fans chose the White Mountains as one of the best anniversary getaways. For those wedded in the winter, the area's ski towns come to life and the grand mountain views turn into snow capped scenic backdrops. The region is equally appealing during the warmer months for couples that enjoy exploring the great outdoors together. See the sights on a joyride through the Kancamagus Scenic Byway or challenge each other on a hike along the Franconia Ridge Loop. Either option gives couples the opportunity to share marvelous mountain views.  .
Lodging Options: The White Mountains region is dappled with properties ranging from quaint bed and breakfasts to all-inclusive resorts, with the Jackson area getting the most accommodation buzz from our fans.
Two for One: The Top Spot is a Tie
Our fans have spoken and according to them, nothing sets the romantic scene better than the sound of crashing waves. Stealing the top two spots on our list, it's a tie between Newport, Rhode Island and Cape Cod, Mass.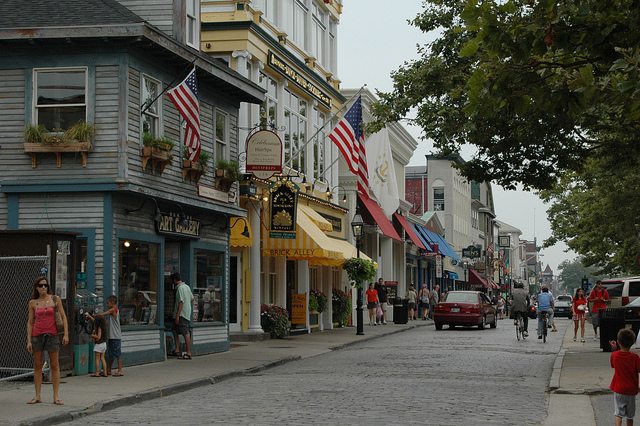 A hub of historic charm and coastal class, Newport proves that America's smallest state has much to offer in the realm of romantic recesses. Spend the trip shopping the quaint streets of Bellevue Avenue, stretching out on Gooseberry Beach, or strolling along the famous Newport Cliff Walk. For date night dinner reservations during spring and summer, reserve a table at Tallulah on Thames for an intimate setting and dishes to please any palate.
Lodging Options: Drop your bags at an inn in the heart of downtown or opt for a more secluded space just outside of town. Any lodging choice in Newport is guaranteed to ramp up the romance for an anniversary trip.
While our honeymoon survey showed newlyweds taking the ferry to the islands, anniversary fans picked the peninsula of Cape Cod for one of the top spots to celebrate. A combination of coastal comforts all factor into the Cape's avid anniversary appeal. Couples can share a dinner of freshly caught cuisine at a Cape Cod clam shack or enjoy waterfront dining at picturesque spots like the Ocean House Restaurant. A stroll through any downtown district provides a taste of nautical history and a bounty of boutique shopping opportunities. Of course, no getaway here is complete without a stroll through the sand and the options for beautiful beaches are endless no matter which part of the hook you head to.
Lodging Options: With a selection of boutique inns and luxurious resorts, the varying lodging options on Cape Cod will have you sailing toward romantic repeat mode when planning future anniversary getaways.
From mountain summits to the seashore, keep rekindling the love and take your next anniversary getaway to New England. If you need more options to spark your interest,  discover anniversary getaways that will steal your heart.
You might also like ...