5 Winter Cocktail Recipes from New England Inns
When the winter chill creeps in, the spirits of the season are a sure-fire way to warm up from the inside-out. These cocktails may be handcrafted, but that doesn't mean they're beyond replicating in the comfort of your own home. Our hotels, B&Bs, and resorts were kind enough to share their best winter cocktail recipes for you to sip all season long.

1. Mocha Latte-Inni
Guests staying at the Woodstock Inn & Resort know which cocktail will keep them warm (and awake) throughout the winter. Whether you're enjoying it by the fire or in the Red Rooster Restaurant that brought it to life, give yourself a jolt with this magical mocha martini.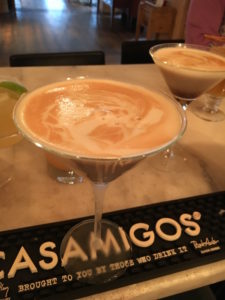 What You Need:
2 oz. Silo Cacao Vodka
.75 oz. Godiva White Chocolate Liqueur
.75 oz. Whole Milk
Shot of Pierce Bros. Espresso
How to Make It: Add a shot of espresso to a chilled martini glass. In a shaker, add in Godiva, vodka, milk, and ice. Shake hard for 10 seconds, then slowly layer the mixture on top of the espresso, including the forth on top. Garnish with a sprinkle of cocoa powder and enjoy!
2. Chocolate Peppermint Martini
Chocolate and peppermint are like the Batman and Robin of seasonal tastes, and the mixologists at the Kennebunkport Inn pour them front and center in this sweet and rich winter martini.
What You Need: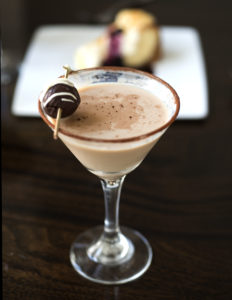 1.5 oz. Godiva Dark Liqueur
.75 oz. Peppermint Schnapps
.75 oz. Gray Goose Vodka
Whipped cream
How to Make It: In a mixing glass filled with ice, add liquid ingredients and top it with Whipped Cream. Shake and strain the mixture into a martini glass rimmed with dark cocoa. Sprinkle with freshly grated nutmeg and garnish with a Peppermint Godiva Truffle.
3. Sweater Weather
It won't take long to cozy up to this seasonal drink. Turning a favorite dessert dish into a boozy beverage, this winter cocktail recipe offered from Basin Harbor will make you feel like a true mixologist right at home.
What You Need:
2 oz. Stonecutter Spirits Heritage Cask Whiskey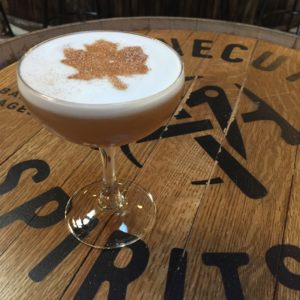 1/4-1/2 oz. lemon juice
3/4 oz. roasted pumpkin spice syrup
3 - 4 dashes black walnut bitters
1 egg white
How to Make It (Cocktail): In a shaker glass with ice, combine and shake the first four ingredients. Strain and discard the ice. Add the egg white to the chilled cocktail. Dry shake vigorously for 30-60 seconds until visibly foamy. Add ice, shake for an additional 30 seconds, and strain into a coupe glass. Garnish with cinnamon and sugar.
Roasted Pumpkin Spice Syrup:
1 whole pie pumpkin, cut into 3 inch pieces
4 teaspoons pumpkin pie spice mix
2 cups water
2 cups water
Brush pumpkin pieces lightly with olive oil. Roast in oven at 425-degrees for 35 minutes (or until soft). In saucepan combine sugar and water. Heat until sugar dissolves. Add pumpkin and pumpkin pie spice. Allow to steep for twenty to twenty five minutes (until spices are dissolved into syrup and pumpkin is totally broken down). Strain through cheesecloth.
4. The Whip-Style Old-Fashioned
For those who enjoy a classic that never disappoints, take a sip of this whip-style "Old-Fashioned" from The Green Mountain Inn. This cocktail has been served at the Whip for decades, and you can impress your friends or family (and maybe spark some memories from past visitors) with this recipe.
What Yo
u Need:
2 oz. Maker's Mark bourbon
1 tsp. Maple syrup
3 dashes Angostura bitters
1 orange slice
1 maraschino cherry
Seltzer (just a splash)
How to Make It: In an old fashioned glass, muddle the orange slice and maraschino cherry with a splash of seltzer and 3 dashes of Angostura bitters. Fill the glass with ice, add your bourbon and maple syrup. Stir and start sippin'.
Take 2: For another variation, add in a teaspoon of cranberry sauce, a pinch of nutmeg, and 2 oz. of hot water. This cran-tastic twist has been dubbed "Santa's Old Fashioned" a la The Hancock Inn.

Take 3: If you'd rather be faithful to one fruit in your winter cocktail recipes, gulp down a grapefruit version from the Trapp Family Lodge. Swap out the syrup, orange slice, and cherry and muddle up .5 oz. of grapefruit oleo saccharum, a wedge of broiled grapefruit, and 3 dashes of grapefruit bitters instead.
5. Jack Frost
Skip the sugar and milk, we've got something better to add to your tea this winter. Anyone who has attended the Fire & Ice festivities at The Nonantum Resort may remember the chill of this festive refreshment.
What You Need: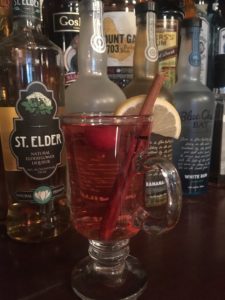 1 1/2 oz. St. Elder Natural Elderflower Liqueur
1/2 oz. Blue Chair Bay Coconut Spiced Rum
1 tsp. fresh lemon juice
1 teabag of Mighty Leaf chamomile tea
How to Make It: Steep the teabag in hot water for 5 minutes. Combine with the rest of the ingredients in an 8 oz. mug. Garnish with lemon, a cinnamon stick and raspberry.
Not ready to break out the shaker and give these winter cocktail recipes a try? See how the pros make their mixed drinks firsthand by going on a tasting trip to one of these properties. Even if they're on the strong side, you won't be far from your pillow!
Still not satisfied? There's more winter cocktail recipes coming soon!