76 Main
The freshly renovated 76 Main is right downtown and about a five-minute walk to the harbor. The Colonial-era inn presents 20 finely tailored rooms that are subtle and refined, and feature all of today's modern sophistication. The impeccably designed boutique hotel has been meticulously curated – so you won't find anything cookie-cutter or inundated with overused nautical themes. Some of the inn's signature touches include seaport-inspired grasscloth walls, seagrass rugs and shiplap wainscoting. 
At the hotel, guests can unwind in the relaxing courtyard or at the all-day coffee café. Outside the hotel, guests are only steps away from boundless dining choices that range from local favorites like oysters and fish-n-chips to upscale haute cuisine from the region's finest chefs. There's something for every palate.
Centrally located, 76 Main provides easy access to lots of fun adventures. Guests can explore the harbor and wharf area, soak up the rays at a nearby beach, plan an unforgettable sailing, boating or whale watching, or try something completely unique like scalloping, vodka making and cranberry harvesting. The downtown area has so many experiences, it's easy to do something different every day of your vacation.
21 Broad Hotel
Colorful, airy and urban-inspired, 21 Broad Hotel in downtown Nantucket is a boutique bed and breakfast with a unique allure. Filled with vibrant fabrics, high-end amenities and an elegant contemporary design, the hotel catches the essence of the island's hip vibe. The inn has relaxing spaces like the back deck and free-standing fireplace that are ideal for a moment of serenity before heading out for your next adventure. 
The resort has 27 impeccable rooms with modern furnishings, plush linens and luxury finishes throughout. Guests love the refreshing steam and Vitamin C showers, personalized concierge services and complimentary beach gear like towels, chairs and beach bags. When it's time to catch some rays and have some fun, the hotel has everything you need. 
In the mornings, visitors can snag a café-style breakfast with homemade scones, muffins, cheese plates, hearty oatmeal, and fresh fruits and juices before stepping out in the heart of the town. From the hotel, it's only a short trip to the harbor, antique shopping, canoeing, fishing, surfing, sailing and golf. The island's best restaurants, pubs and coffee shops are right there too. 
Martin House Inn
Martin House Inn in Nantucket's historic district harkens back to a bygone era. The intimate boutique hotel was built by a sea captain in the early 19th Century and has a flawless mix of classic seaport style and modern conveniences. From ocean-inspired artwork and luxurious guest rooms to panoramic views of the harbor and downtown, this unparalleled bed and breakfast has it all. It's the perfect high-end destination with a touch of authentic American history. 
Guests can start the day with a lavish Continental breakfast with fresh-made scones and pastries, homemade granola, fresh fruit and juices, and gourmet coffee and tea. The hotel has some private spots to explore during downtimes like the colorful and fragrant pollinator gardens, peaceful private veranda and scenic roof walk.
Outside the hotel, visitors can explore the island's many shops, galleries, theaters and museums, or head to the beach for some fun in the sun. After a robust day of adventure, retire to comfortable accommodations with free Wi-Fi, air conditioning and sumptuous linens. On Fridays, guests can sample private-label wines and artisanal cheeses.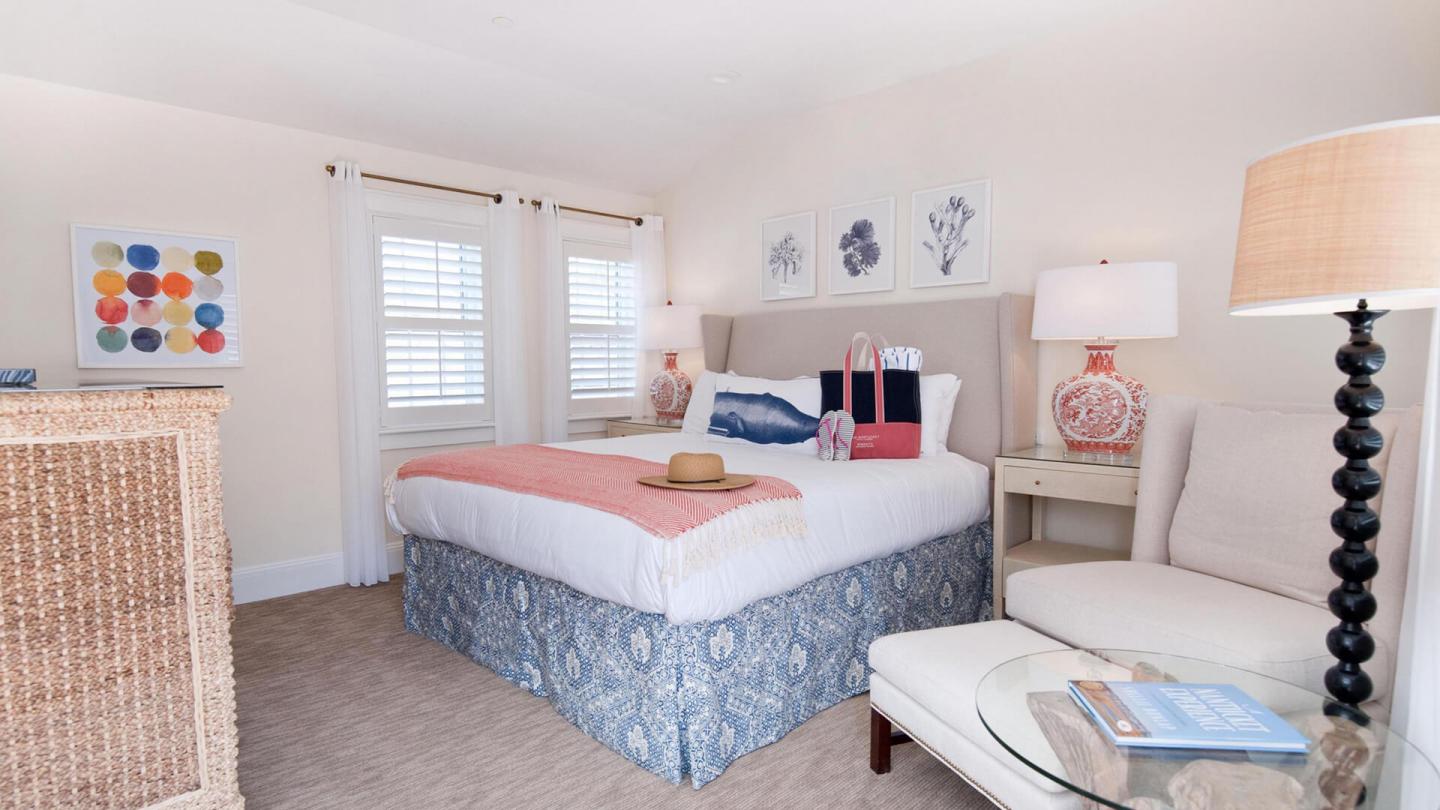 Nantucket Hotel & Resort
The upscale Nantucket Hotel & Resort is on the north end of downtown near the desirable Brandy Point area. The inn grants immediate access to bustling downtown Nantucket and the harbor, as well as Jetties Beach, Children's Beach and ample hiking and biking trails nearby. The inn has a nice selection of suites and private cottages that range from one to four bedrooms. All guest rooms come with fully equipped kitchenettes and separate living and dining areas, so there's plenty of room to stretch out and unwind. 
Families love the inn for its heated swimming pool, kiddie pool, hot tub, complimentary beach shuttles, daily Continental breakfast buffet, yoga classes and a brand-new fitness center and spa. The hotel also has a variety of children's programs, a bicycle rental service with free delivery, and antique fire truck rides for kids. It's the ideal spot for making memories!
The on-site Breeze Bar and Café has both indoor and outdoor seating for breakfast, Sunday Brunch, lunch and dinner at the Nantucket Hotel & Resort. Guests can enjoy local fare at the hotel or grab a custom cocktail, glass of wine or craft brew before heading out to eat at one of downtown's delectable restaurants.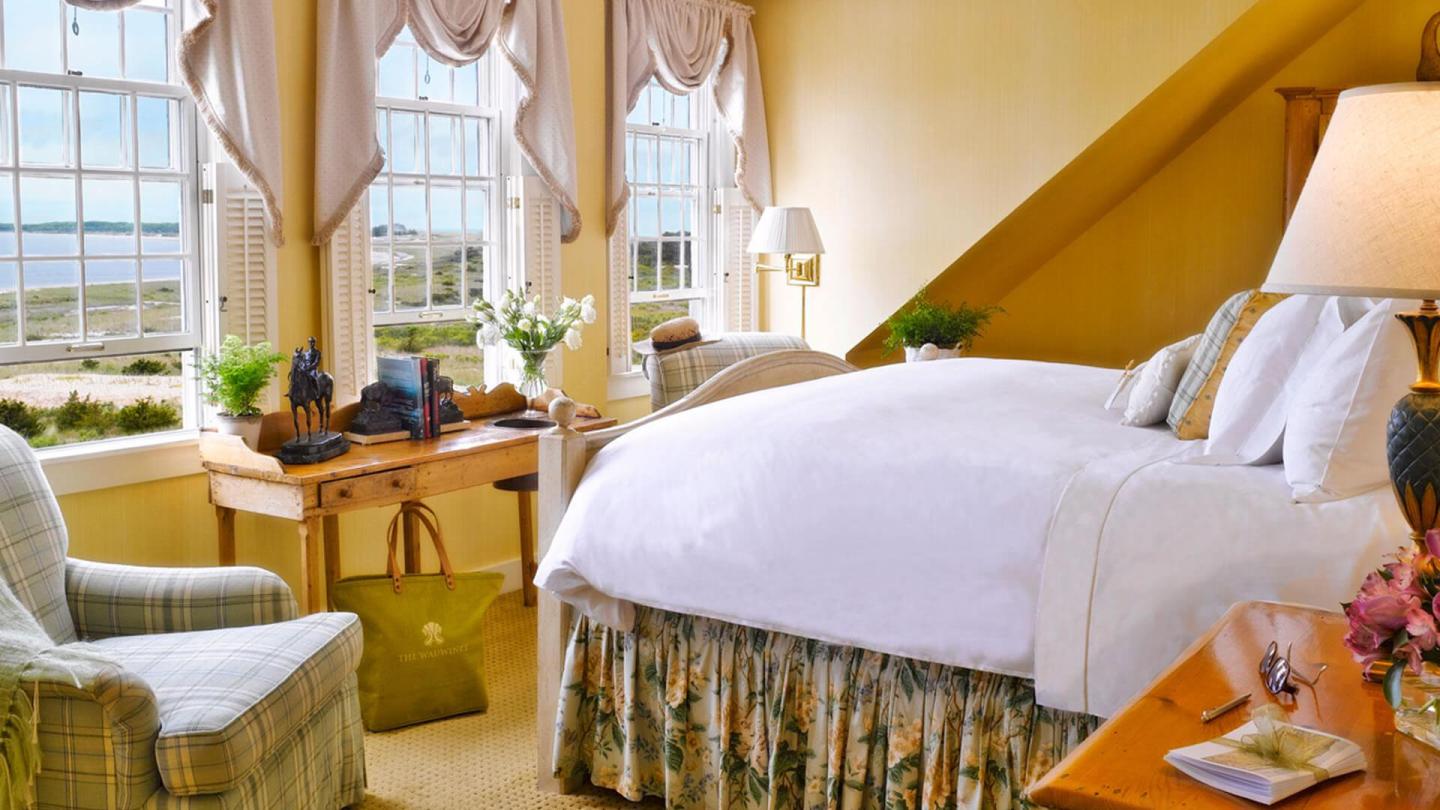 Wauwinet
Nestled between Nantucket Bay and the Atlantic Ocean on the northeast corner of the island, the 32-room Wauwinet hotel presents boutique lodging in an immaculate setting next to a wildlife refuge.  The rooms are pleasant and satisfying, with unique furnishings, supple linens and robes, aromatherapy bath products, fresh-cut Nantucket wildflowers and beautifully hand-stenciled finishes. 
The on-site restaurant, Topper's, is one of the nation's best. It is Zagat rated and consistently recognized for its award-winning wine cellar and a captivating menu that features ocean-to-table fare like fresh-caught Retsyo oysters served on the half shell. Diners can start with the casual fare on the deck or a drink from the bar before sitting down for an unforgettable formal dinner. 
The hotel's serene location is a picture-perfect backdrop for a waterfront getaway. Relax on the deck and take in the sweeping skies and wonderfully manicured lawn or walk the beach and soak in the magnificence of the Atlantic Ocean. This part of the island is more peaceful than the downtown area, but there's still plenty to do – like biking, boating, fishing, sailing and whale watching. If you're looking for something breathtaking, private and full of adventure, this is your destination.