New England Travel Itinerary: Country Roads
14 day, 13 night Tour of New England's Best Country Roads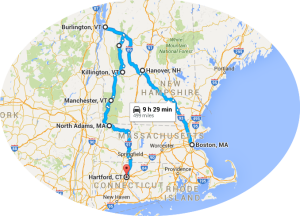 Discover the great natural beauty of this region, and rewind to sweeter times as you travel along New England's picturesque back roads. This self driving, road trip tour puts you off the beaten track where you'll avoid crowds and have all the country stores and village diners to yourself. 

Day One – Boston, Massachusetts
There's no doubt that Boston is one of America's leading cities. Educational, scientific, and medical industries all thrive here. On top of that, Boston is compact and fairly walkable by American standards. An especially prime strolling area is the Boston Common which has acres of green space, lakes, live music, and a golden-domed State House. Get a dose of rich American history when you stop by Faneuil Hall and Quincy Market. Last but not least, tour the world's largest floating wooden warship (USS Constitution) that sits anchored in Boston Harbor. We recommend spending at least two nights in Boston. Here are some places to stay in Boston. 
Day Two – Boston, Massachusetts
Explore the parts of the city that you missed yesterday. Make sure to taste some fresh seafood! More ideas here.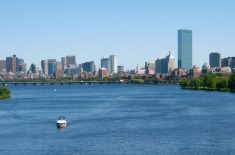 Day Three – Boston to the New Hampshire Lakes Region
Today you head north into New Hampshire. Your first stop is Canterbury Shaker Village just outside of Concord, NH. This national historic landmark and museum has 25 restored Shaker buildings on its 694 acre site. See an exhibit, take part in a workshop, or just enjoy the tranquil beauty. The village store offers samples of local fare and small tastes of traditional Shaker recipes. Once you've had your fill of the Shakers, keep going north until you arrive at Lake Winnipesaukee. This vast lake is stunning and there are fine places to stay all around it. Cruise aboard the MS Mount Washington, or paddle yourself around the many islands in a kayak or canoe. Lodging in the Lakes Region
Day Four – The New Hampshire Lakes Region
Today, enjoy the lake views and take a dip, or drive into the nearby White Mountains and take in the impressive sights of the Presidentials––the 5,000 foot high peaks named for US presidents. Highest of all at 6,288 feet , Mount Washington can be climbed by car, foot, or train. All routes offer spectacular views.
Day Five – New Hampshire to Northern Vermont
Hop back on the highway and motor north. Stop for lunch or a coffee break in the town of Hanover, NH. Picture perfect and home to Dartmouth College, Hanover also boasts the Hood Museum, a small but expertly designed and curated art museum right in the center of town. The next stop along Interstate 89 is Montpelier. This gem of a town is also the smallest state capital in the United States with only 8,000 inhabitants at last count. Montpelier has a lively atmosphere and its two main roads (State Street and Main) are filled with coffeehouses and boutiques. Pop by the golden-domed State House for a photo opp, and visit the local historical society for some great Vermont folk tales. Your next stop includes a special frozen treat. The Ben and Jerry's ice cream factory in Waterbury, VT is the state's number one tourist attraction. Take a tour of the factory and go wild with the sampling at the end. Spend a few nights in the area to soak in the bucolic landscape and get in some outdoor activities. Lodging in Northern Vermont.
Day Six – Northern Vermont
Immerse yourself in the Northeast Kingdom. Remote, rugged, and unspoiled, this region borders Quebec to the north and New Hampshire to the east. There are lots of great recreational opportunities (mountain biking, hiking, rafting) as well as covered bridges, historical towns, and vast lakes. St. Johnsbury is the largest town in the area. There, you can visit the Fairbanks Museum of Natural History or tour the Maple Grove Farms Museum to learn about maple sugaring. Next, head West to the city of Burlington by the shores Lake Champlain. Burlington is the largest city in Vermont and a large university town. The streets are gorgeous and the constant presence of people gives them a gentle hum. Shop unique Vermont crafts and taste farm-to-table dishes at any of the great restaurants on Church Street. On your way out of town, stop by the Shelburne Museum and Shelburne Farms overnight in Burlington.
Day Seven – Central Vermont
Power down South via Route 100, a road well-known for its scenic surrounds. This road will take you through the Mad River Valley which is full of quintessential New England villages like Waitsfield and Warren. Stop at the Warren Store for freshly baked goods or a delicious sandwich. Today, you're traveling along the "spine" of the Green Mountains, and the sights here will help you understand why Vermont is such a special place. Cows milling around red barns, green landscapes, classic village squares, and the twisting roads represent a very traditional image of America. If you have time, spend a night in Woodstock or Killington. Experience 18th century farm life at Billings Farm & Museum where you might get to make your own cheese, ice cream, or applesauce depending on the season. A little ways down the road, Quechee is also worth a visit for the Simon Pearce Mill and Showroom. There, you can shop for luxury homeware, dine at their in-house restaurant that overlooks a waterfall, or observe live glass blowing. Lodging in Central Vermont
Day Eight – Southern Vermont
Have your pick of the many small towns and villages of southern Vermont. If you feel like getting active, take a hike up Mount Equinox, or go fishing in the Battenkill. If you need some new clothes, pop by the Manchester Designer Outlets for fine designer brands at low prices. Lodging in Southern Vermont
Day Nine – Vermont to The Berkshires Region of Massachusetts 
Today you will head south along Route 7 through the western hills of New England as they bridge Vermont with Massachusetts. The Berkshires contain some of the prettiest villages in New England from Stockbridge to Williamstown. The region offers some wonderful art collections and museums such as the Clark Institute, the Norman Rockwell Museum, Boston Symphony's summer home at Tanglewood, the Hancock Shaker village, and MASS MoCA. Overnight in The Berkshires
Day Ten and Eleven – The Berkshires, Massachusetts 
Explore this quiet area. Highlights include the 330 year old and intact village of Historic Deerfield, and the 63 miles of touring roads and forested acres along The Mohawk Trail. Stay one more night in The Berkshires.
Day Twelve – Litchfield Hills & Hartford, Connecticut 
Wander through Litchfield Hills or pop down the road to Hartford, Connecticut's capital city. The Old State House is indeed America's oldest State Capitol. On top of that, Mark Twain and Harriet Beecher Stowe, two of the most influential writers of the 19th century made their homes in Hartford and you can tour them both. Overnight in Hartford
Day Thirteen – Driving and Departure
From Western Connecticut you can depart from New York City or Newark Airport. Both are an easy drive from where you'll be. If you are departing from Boston, leave a day or two for the return drive and consider stopping in at some America's finest Ivy League universities along the way.