Stay & Ride: The Ultimate Guide to Vermont Mountain Biking Trips
Mountain biking has shifted into high gear over the last decade or so, and the Green Mountain State has been hot on its trail. Riders have pooled their resources to open up miles of new terrain in practically every corner of Vermont, with options for everyone from race-circuit pros to first timers. Their raking and shoveling is starting to pay off: Vermont mountain biking is now widely recognized as some of the best on the East Coast.

If you're thinking of planning a trip to this mountain bike mecca, imagine parking your car upon arrival and then pedaling everywhere else. These 12 inns and resorts offer trailside lodging near a variety of cross-country and downhill networks, so you can spend more time mountain biking in Vermont and less time driving. Many of them also offer deals and discounts for mountain bikers. These destinations aren't ranked, but if you follow the numbers in order, you can piece together a tour of the entire state that starts in the southeast corner of Vermont, then heads north, west, and back south in a rough oval.
Southeastern Vermont - Windham County
1. Grand Summit Resort Hotel - Mount Snow Bike Park - West Dover, Vermont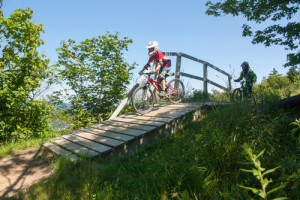 Mount Snow became became one of the first ski areas in the country to let mountain bikers ride the chairlift back in 1986, and it it's all been downhill since then. The resort has hosted all levels of competition, including the World Cup and an annual summer stop on the Eastern States Cup. Even if you've never ridden true downhill before, Mount Snow has you covered: their Learn to Downhill program includes a professional lesson, full-suspension bike rental, helmet, pads, and a lift and trail pass all for one reasonable flat rate. You'll get started on Trail 7, a long intro run that's wide, predictable, and smoothly maintained. From the trail's end, you can ride straight to your room at the Grand Summit Resort Hotel.
2. Grafton Inn Vermont - Grafton Ponds Outdoor Center - Grafton, Vermont
Grafton Ponds Outdoor Center includes 2,000 acres of scenic multi-use trails, with miles of singletrack designed with Vermont mountain biking in mind. Believe it or not, this quiet country getaway even maintains a bike terrain park, which welcomes both BMX and mountain bikes to try out features like teeter-totters, drops, bridges, and jumps. Guests at the Grafton Inn Vermont enjoy complimentary trail use at Grafton Ponds, with rentals and lessons available. In the summer, Grafton hosts kids' mountain bike camps and an annual Bike & Brew Festival.
East-Central Vermont - Windsor County
3. Snapdragon Inn - Paradise Park - Windsor, Vermont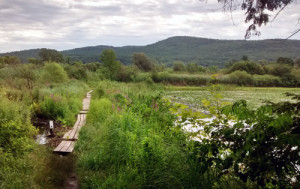 Step off the Snapdragon Inn's back porch and into the Paradise Park recreation area, with over 200 acres of hardwoods, farmland, and open water. Most of the trails here are mellow doubletrack, perfect for a lunchtime cruise with views of Mt. Ascutney. Book Snapdragon's Bikes & Picnics Package and pedal down to the lakeshore with your picnic basket — just don't tell Yogi Bear where you're headed.
4. Holiday Inn Vacation Club at Ascutney - Ascutney Trails - Windsor, Vermont
This onetime ski area is still a hotbed of outdoor activity, with 30 miles of recreational trails weaving across the former Ascutney Mountain Resort. Technical singletrack started cropping up here in 2006, and it's since become a major Vermont mountain biking destination. Holiday Inn Club Vacations at Ascutney Mountain Resort is located right at the main trailhead and offers spacious accommodations.
5. Woodstock Inn & Resort - Mt. Peg Trail System - Woodstock, Vermont
The recent addition of the on-site Mt. Peg Trail System came naturally to Woodstock Inn & Resort, home of Suicide Six ski area. The resort plans to expand the network to 20km from the current 10km in 2016. Over the winter, a section of trails will be set aside just for fat bikes, Vermont's newest biking trend.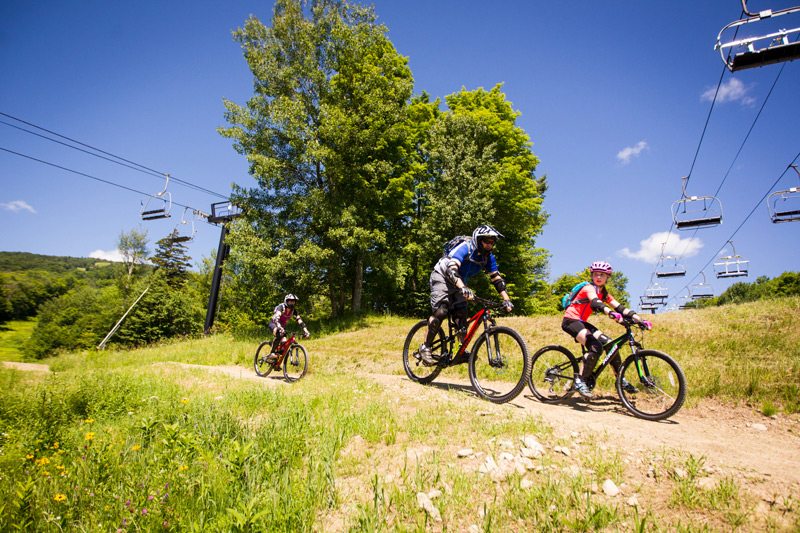 6. Jackson Gore Inn - Evolution Bike Park at Okemo - Ludlow, Vermont
When Okemo decided to get serious about lift-served downhill, they brought in Christian Robertson, designer of the Evolution Bike Park in Crested Butte, CO. Robertson continues to advise his Vermont offshoot, engineering new trails to use terrain efficiently and find the perfect balance between flow and technical riding. Okemo offers a top-tier fleet of rental bikes and an on-site mechanic, along with slopeside lodging at the Jackson Gore Inn. The inn's Bike & Stay package includes a biking pass and steep discounts at the gear shops in Jackson Gore Village.
7. Liberty Hill Farm Inn - Green Mountain National Forest Contest Trail - Rochester, Vermont
Just up the road from Liberty Hill Farm Inn, the Contest Trail weaves for just over 3 miles along old mountain roads with an awesome view near the southern end. The inn is a member of Rochester Area Sports Trail Alliance (RASTA), which maintains backcountry trails for a variety of uses across all seasons.
Northeast Kingdom Mountain Biking
8. Wildflower Inn - Kingdom Trails - Lyndonville, Vermont
As most mountain bikers worth their wheels already know, the Kingdom Trails are truly world-class, with over 150 miles of mapped, marked, and maintained trails. Here, you can find everything from easy cart roads to challenging singletrack, along with some high-endurance (50+ mile) loops.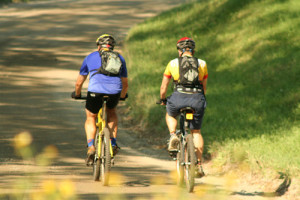 The Wildflower Inn is clipped in and ready to ride, offering multiple Vermont mountain biking packages. Bare Bones Biking, the most popular, includes day passes to the Kingdom Trails and a 15% off voucher for return trips to Wildflower Inn in the same season. The inn also has a special rate for Kingdom Trail season pass holders, a full-service bike shop on site, a bike wash and repair tool station, indoor locked bike storage, and a shower/changing room so you can still ride all day after you check out on your departure day. Meet owner, innkeeper, and avid mountain biker Jim O'Reilly in the closing statement of this edition of Pinkbike.com's Trail Love video series.
9. Inn at Mountain View Farm - Kingdom Trails - East Burke, Vermont
The Inn at Mountain View Farm shares its 440 acres with the Kingdom Trails. The Darling Hill trails start right at the inn, making it a convenient place to stay and ride. All guests enjoy free Kingdom Trail passes.
Northwestern Vermont - Stowe Area
10. Stoweflake Resort & Spa - Stowe Recreation Bike Path, Cady Hills Forest - Stowe, Vermont
Stoweflake Resort & Spa recently partnered with Vermont mountain biking guide service Four Points VT to release two new mountain biking packages, one of which includes membership in the Stowe Mountain Bike Club. A short ride down the road from the resort, bikers can find 1-3 hours of fun starting with Cady Hill Climb. Advanced riders can find technical singletrack on the Schween Haus loops.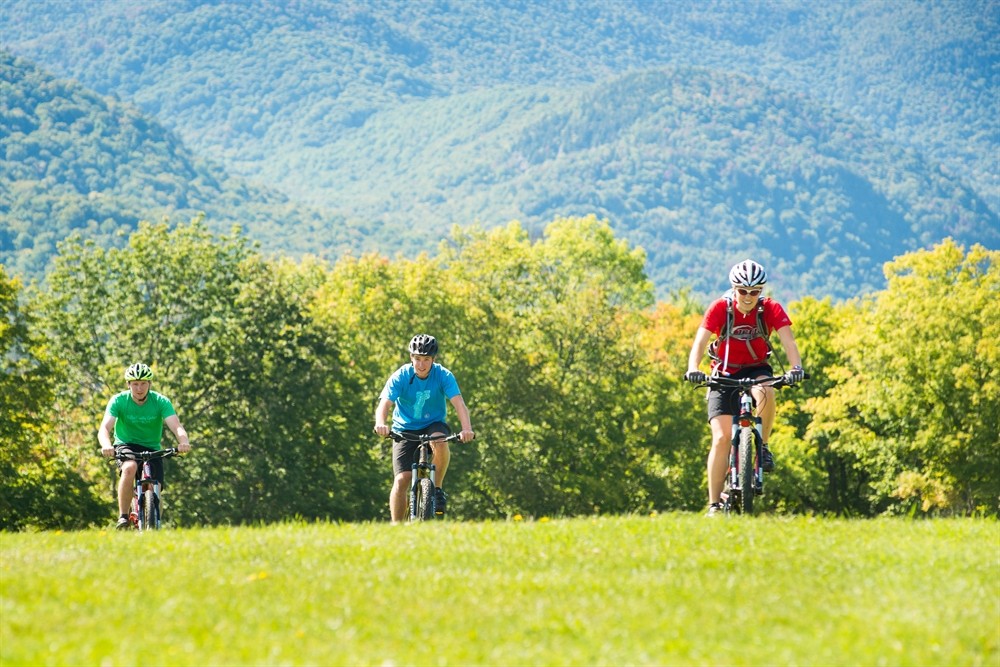 11. Trapp Family Lodge - On-site Mountain Bike Trails - Stowe, Vermont
The famous Trapp Family Lodge has 28 total miles of mountain bike trails on the property. About three miles are intermediate singletrack, with five more miles of intermediate/expert level riding. The remaining 20 miles are beginner to advanced doubletrack spreading across 2,500 scenic acres. Trapp is a great place to progress, with skills lessons and guided trips available. The Lodge rents all kinds of bikes, from children's models to full-suspension adult bikes. Trail passes are complimentary for Lodge guests, while the Mountain Bike Package includes daily breakfast and full-day bike and helmet rentals.
Southwestern Vermont - Manchester
12. Equinox Preserve - The Equinox - Manchester, Vermont
The eastern slopes of Manchester's Mount Equinox are home to 914 acres of preserved recreation land. Equinox Resort guests have direct access to the trail system from the back of the hotel, with 11 miles of easy-to-medium challenging terrain.
You might also like...