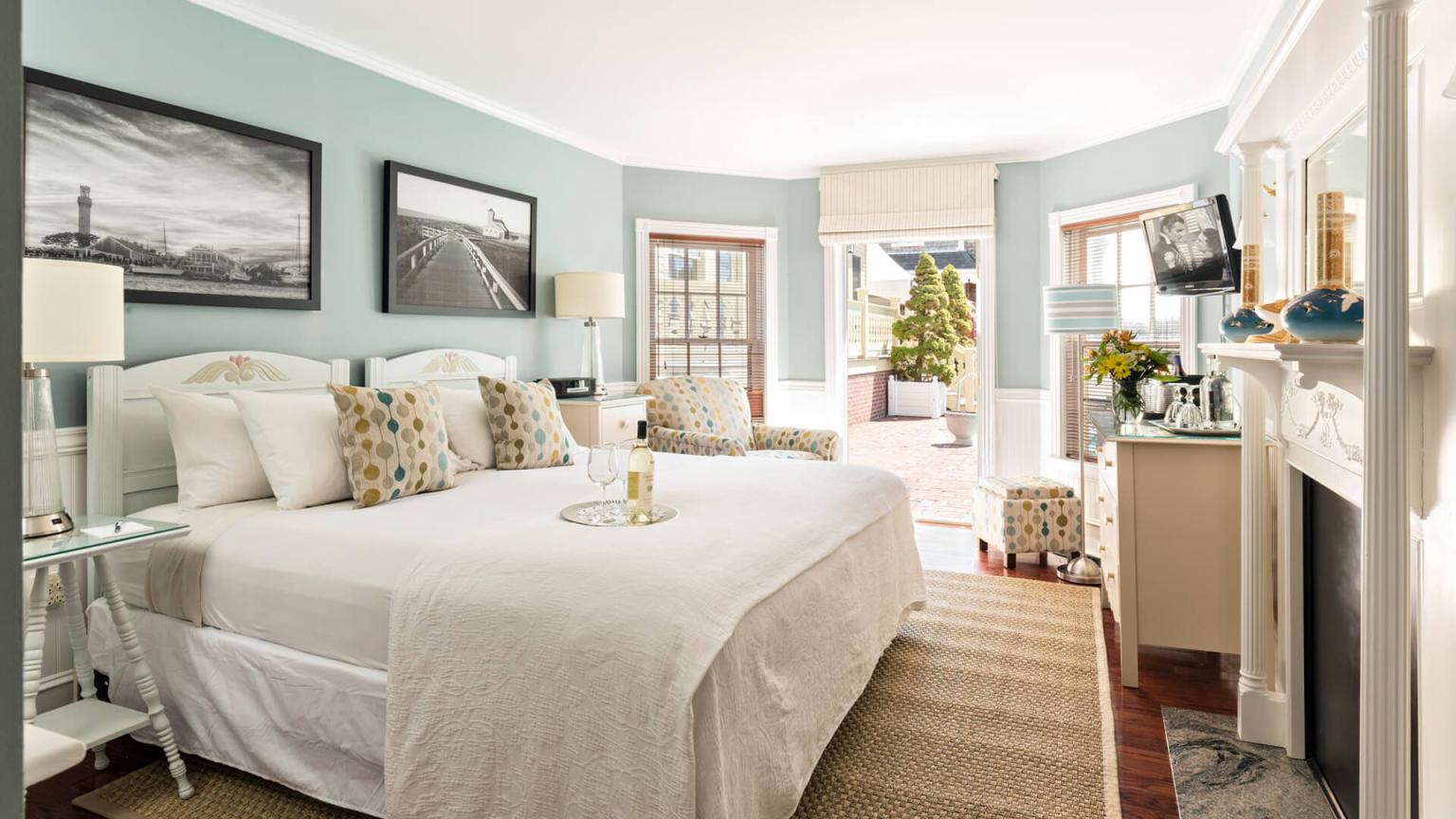 Brass Key Guesthouse – Provincetown, Massachusetts
An exceptional mix of current amenities and historic charm, the Brass Key Guesthouse is a haven of historically restored buildings and guest rooms that are loaded with all today's modern conveniences. This beautifully landscaped private inn is unlike any other hotel in Provincetown. 
The resort presents luxurious rooms, stunning grounds and a gracious staff that perfectly complement the hotel's cool features like an infinity-edge heated pool and oversized in-ground spa. Guest rooms have king or queen beds with tasteful appointments, private terraces, fireplaces and Jacuzzi tubs. 
The complimentary breakfast served daily features home-baked muffins and pastries, fresh-cut fruit, cereals, oatmeal, yogurt, gourmet coffee and specialty teas. Couples can enjoy hot entrees like scrambled eggs, quiche, breakfast burritos, French Toast, bacon, sausage and home-fried potatoes on a rotating schedule. 
Provincetown is an ideal spot to discover all the cape has to offer. Romantic couples can spend their time whale watching, sailing, dancing or discovering one of the cape's unique art galleries before retiring to the inn to unwind.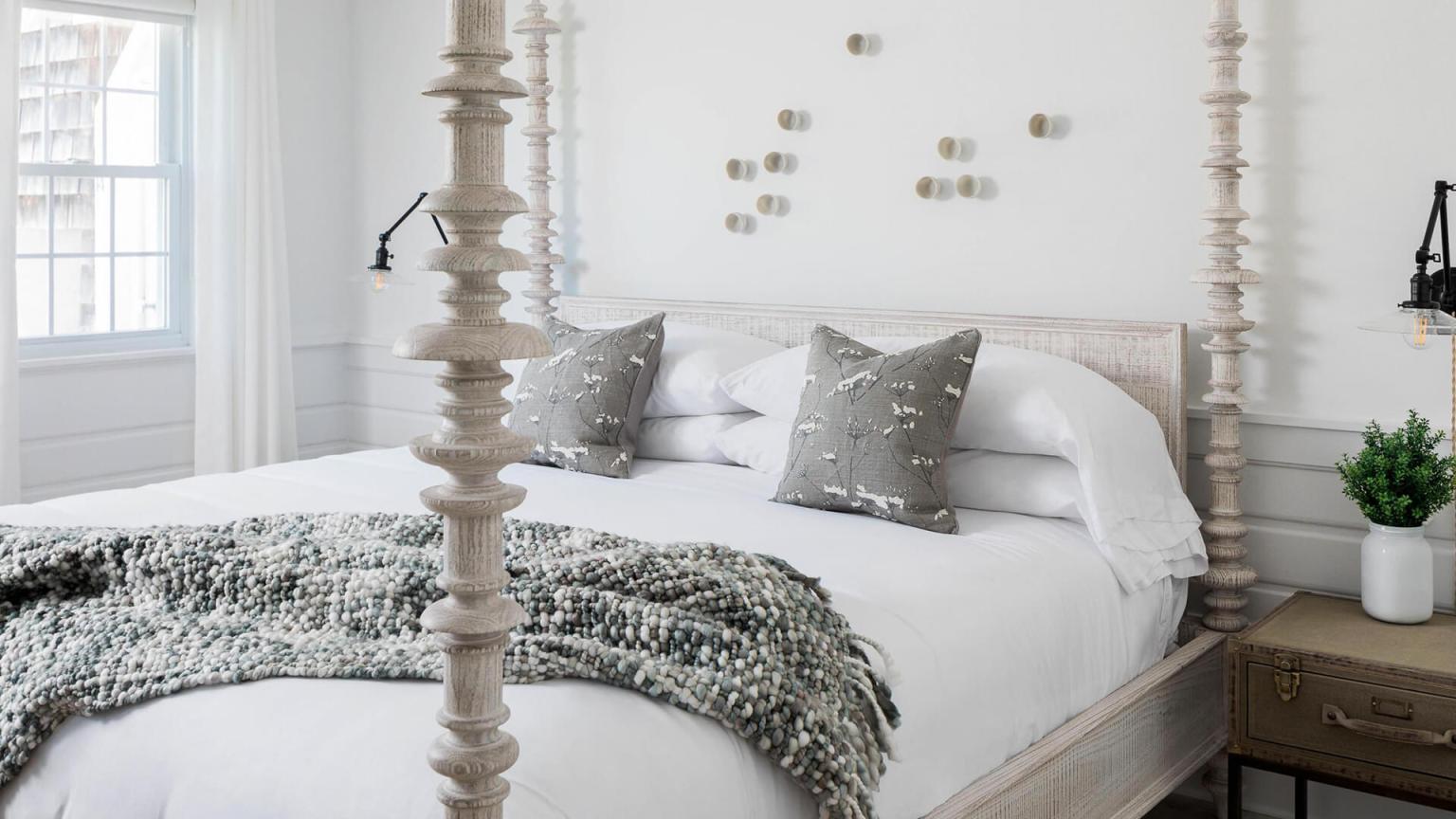 The Coonamessett – Falmouth, Massachusetts
Freshly renovated, The Coonamessett in Falmouth is an ideal home base for exploring the cape by car, bike or foot. The 29-room bed and breakfast has an authentic Cape Cod vibe with an elegant, airy design that has the style and feel of a modern coastal home. The inn has several diverse suites and deluxe rooms with king or queen beds that are great for couple's retreat at an affordable rate. 
The Falmouth area serves up ample adventures during the day. Couples can bond during a romantic stroll along the beach or a dreamy bike ride along the bay to see all the sights. Or head out on the water for an afternoon of sun and fun under bluebird skies. 
Eli's Tavern at The Coonamessett is a Falmouth institution that has been serving up impeccable New England cuisine for decades. The distinctive no-nonsense restaurant recently received a full renovation, too, but still retains the timeless New England menu that made it a local's favorite. When you're ready to kick back and let loose, couples can head to Eli's for a creative cocktail or a full dinner.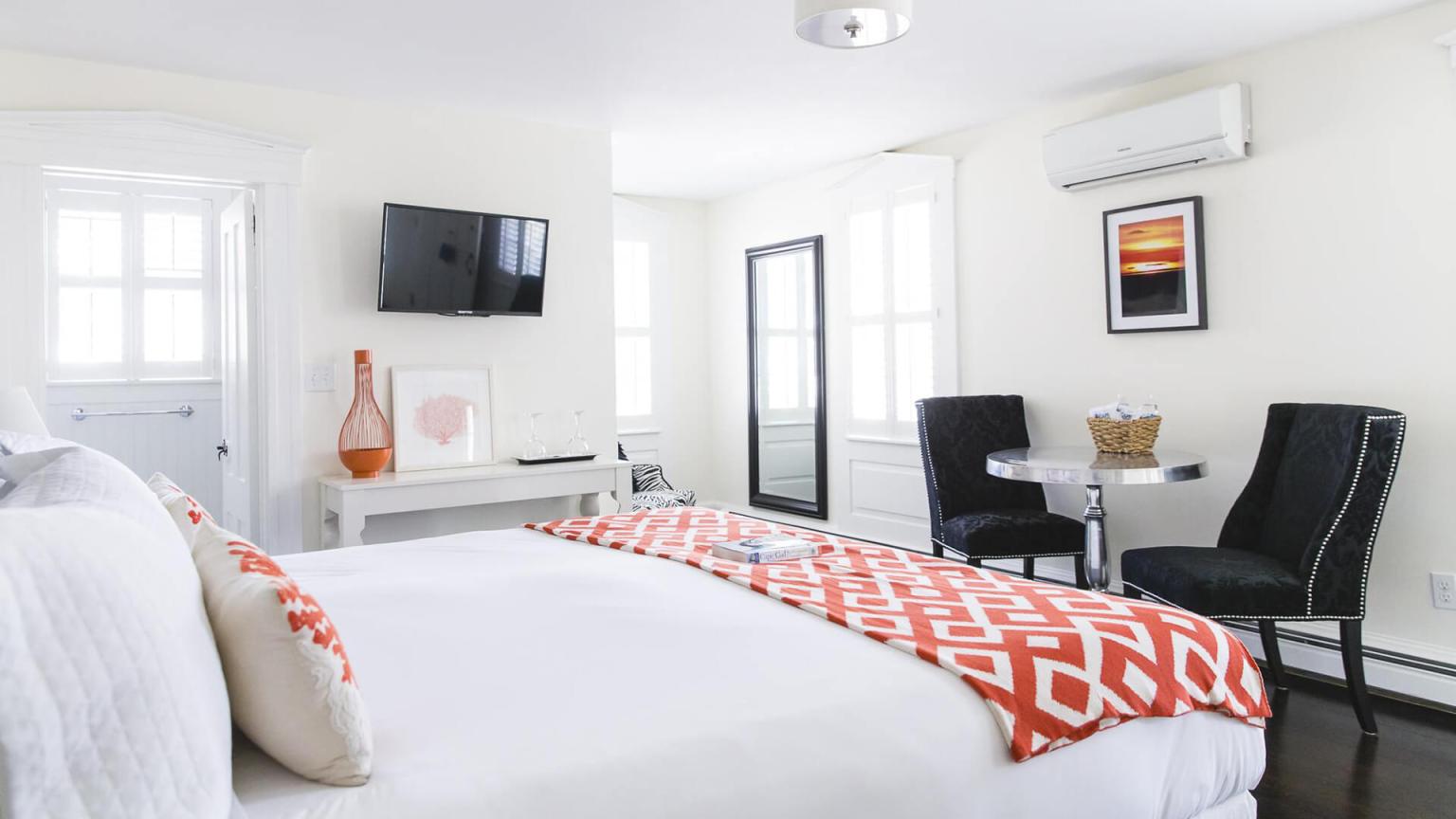 Platinum Pebble Boutique Inn – Harwich, Massachusetts
If you're seeking seclusion and privacy with your loved one, try the luxurious, adults-only Platinum Pebble Boutique Inn in Harwich. The hotel's central location makes it a wonderful jumping off spot for activities on Cape Cod. 
The recently remodeled boutique hotel is housed in an old sea captain's home that sits on nearly two acres of private, wooded land only a short walk from the town's best shops and dinner spots. Romantic couples can frolic in the rejuvenating on-site pool, schedule a pampering massage, stroll the nearby beach or check out the cape's many villages with ample shopping, antiquing and coffee shops. Active couples can try sport fishing, kayaking, surfing or sailing while more relaxed endeavors include whale watching, helicopter tours and golf. For more exploration, it's simple to hop the ferry to Martha's Vineyard or Nantucket. 
The eight finely-appointed guest rooms at the Platinum Pebble Boutique Inn have marvelous décor, plush furnishings, fresh linens and pleasant accoutrements like Monarch robes, Kingsdown mattresses, air conditioning, cable TV and a gourmet breakfast served daily with choices of in-room dining, in the lounge or poolside.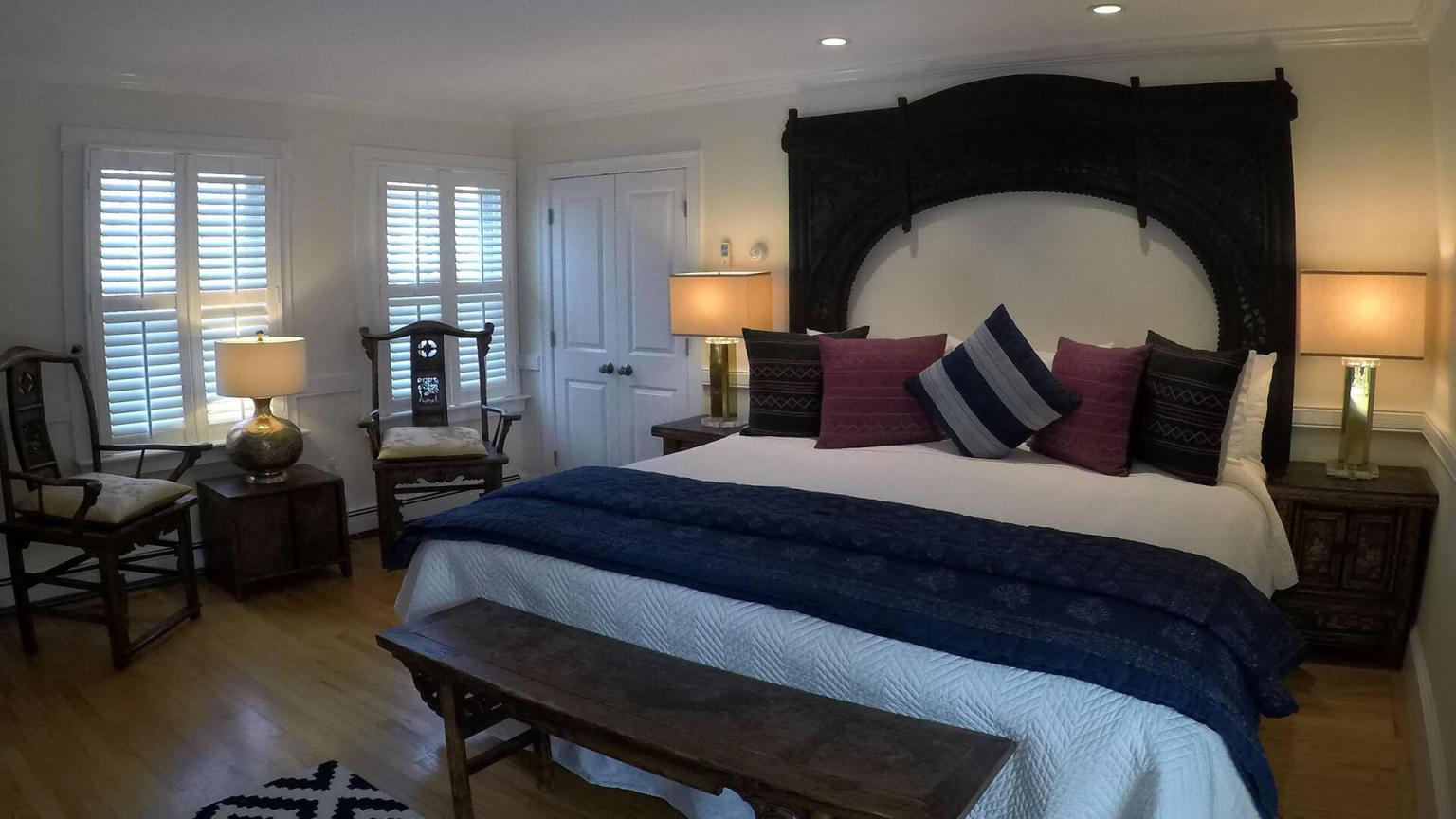 Carpe Diem Guesthouse and Spa – Provincetown, Massachusetts
The 18-room Carpe Diem Guesthouse and Spa provides an escape from the ordinary for amorous couples. The adult-only boutique hotel is right in the middle of historic Provincetown and features impeccable guest rooms, a soothing Namaste spa and a hearty complimentary breakfast served every morning. 
Lovebirds can pick from several uniquely appointed rooms named for literary icons like Henry David Thoreau, Robert Frost, Oscar Wilde, Dorothy Parker, Emily Dickinson and William Shakespeare. Each guest room features a king or queen bed, down comforter, private bath, bathrobes, TV and free Wi-Fi. The on-site spa offers tranquil massage services, a Turkish steam room, Finnish sauna and a hot spring hydro-jet hot tub for couples to achieve total bliss.  
Mornings begin with a homemade breakfast of robust coffee and fresh muffins, cakes, waffles and quiches. From there, couples can explore historic Provincetown or just kick back at the bed and breakfast for a low-key bonding experience. Guests of the inn can enjoy sherry and port served gratis daily, along with a 24-hour coffee and tea station for quick refreshment.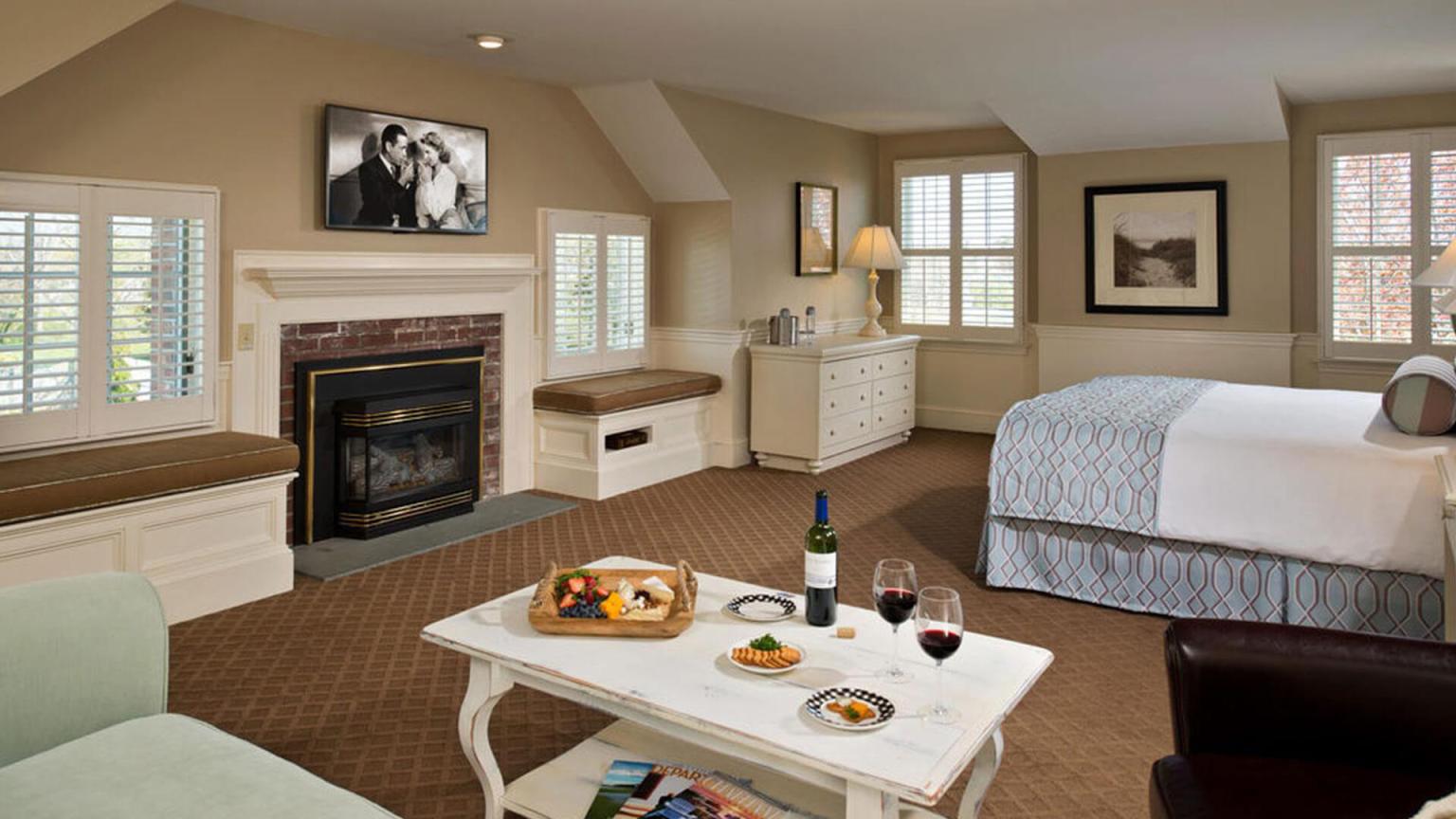 Chatham Wayside Inn – Chatham, Massachusetts
The seaside village of Chatham is home to the Wayside Inn, a 56-room hotel on the elbow of Cape Cod that's filled with stylish touches that romantic couples will appreciate. Guest rooms at the hotel can have elegant four-poster beds, fireplaces, porches or terraces with views of the neighboring park or the Chatham Seaside Links Golf Course. 
Couples can stroll Main Street just outside the hotel and explore more than a mile of unique shops, art galleries, coffee shops and restaurants. The inn is surrounded by water on three sides by Pleasant Bay, Nantucket Sound and the Atlantic Ocean, so water play is only minutes away from the hotel. Couples can walk the beach hand in hand, take a lighthouse tour, go birding or play a round of golf before making plans for a memorable dinner and night out on the town. Chatham is a beautifully preserved small New England town with lots to do! 
The Wild Goose Tavern at the hotel has a creative menu, extensive wine list and a magnificent bar. The fresh menu features regional favorites with locally sourced ingredients. It's a great place to pre-game before a night out and a mellow spot to wrap up the evening. 
Captain's Manor Inn – Falmouth, Massachusetts
The 8-room Captain's Manor Inn in Falmouth is an intimate and inviting bed and breakfast that can bring you closer to your partner. Each room at the hotel is unique and features original plantation-style windows that have beautiful views of the park-like grounds and lots of natural light. Amenities include a private bath, full breakfast, down-filled duvet, down alternative pillows, luxury linens, spa robes, air conditioning and cable TV. 
The sophisticated Captain's Manor Inn sits in the center of Falmouth Village's popular historic district and is most notable for its 2,500-square-foot veranda that wraps around the home. Romantic couples can expect a hearty breakfast each morning highlighted with fresh-baked goods, refreshing juices and decadent coffee. 
The town of Falmouth is surrounded by more than 65 miles of coastline, so there's lots to explore. Grab some bikes and hit the Shining Sea Bikeway just around the corner and ride through marshlands, cranberry bogs and along the Atlantic Ocean. Or stroll to Village Green and explore numerous boutique shops and some of the best restaurants on the cape. A day trip over to Martha's Vineyard is always fun, tee up for golf, or visit nearby museums, antique shops and bookstores for a day filled with smiles and romance.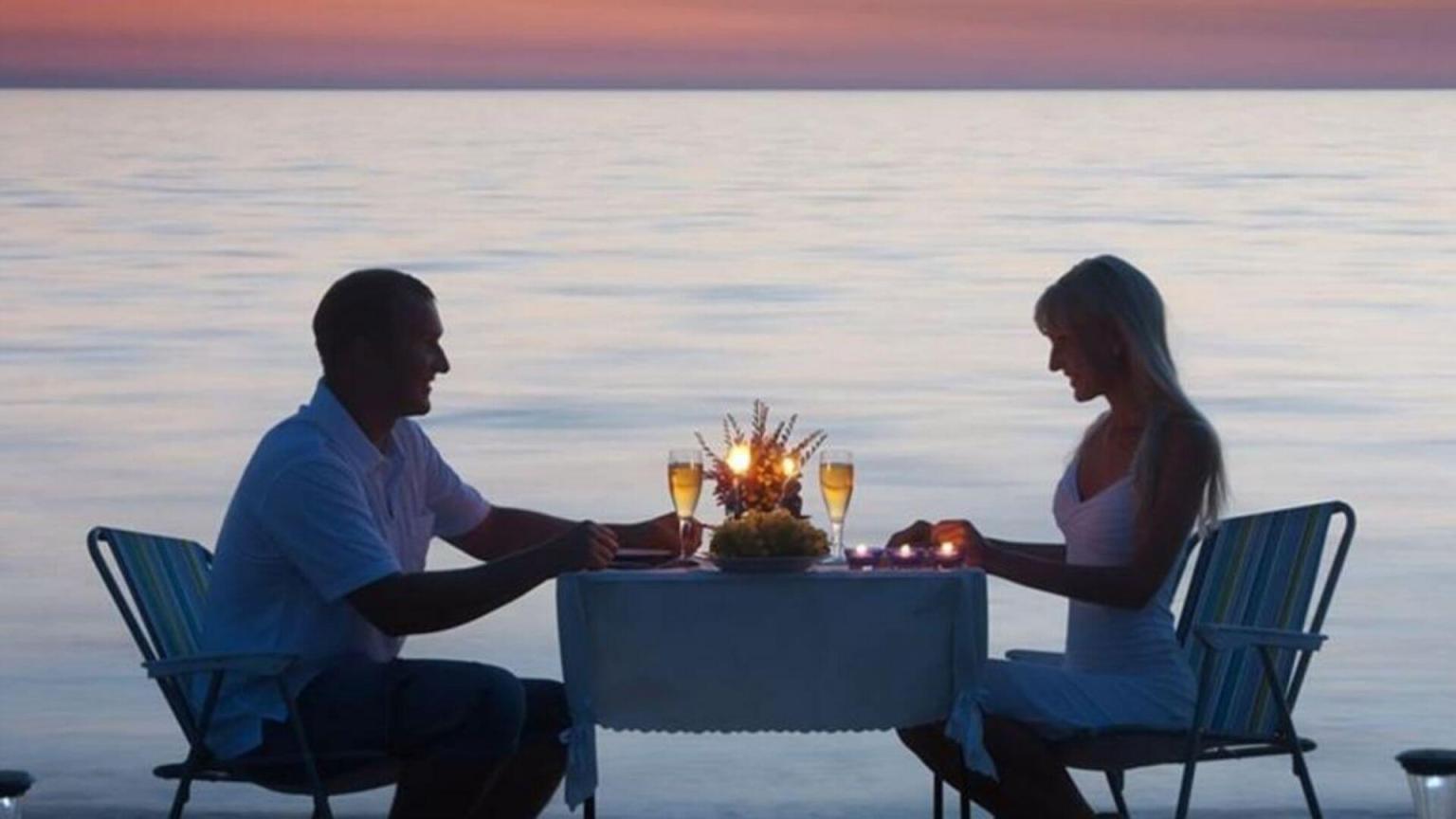 Inn at Cape Cod – Yarmouth Port, Massachusetts
Take your relationship to the next level with a luxury getaway to the intimate Inn at Cape Cod. The celebrated boutique inn has a rich tradition in the heart of historic Yarmouth Port. The nine-room historic inn is close to several ocean beaches, bike trails, jet skiing, whale-watching excursions, antiquing, nature trails, golf, tennis and island ferries. 
Guests can wake up to a wonderful gourmet fusion breakfast with tastes of Australian, English and French cuisine melded with a one-of-a-kind American influence. The hand-selected menu is a hit with visitors who want to fuel up before heading out to discover the village and nearby Barnstable and Hyannis. 
Guestrooms and suites at the Inn at Cape Cod come with a private bath, upscale linens, flat screen TV and a welcome snack tray. Lovebirds will appreciate the 24/7 tea and coffee service along with the afternoon home-baked goodies served daily. The hotel's undying attention to detail and special touches make it a fashionable destination for couples who want privacy, accessibility and a touch of the finer things in life as they continue their journey together.