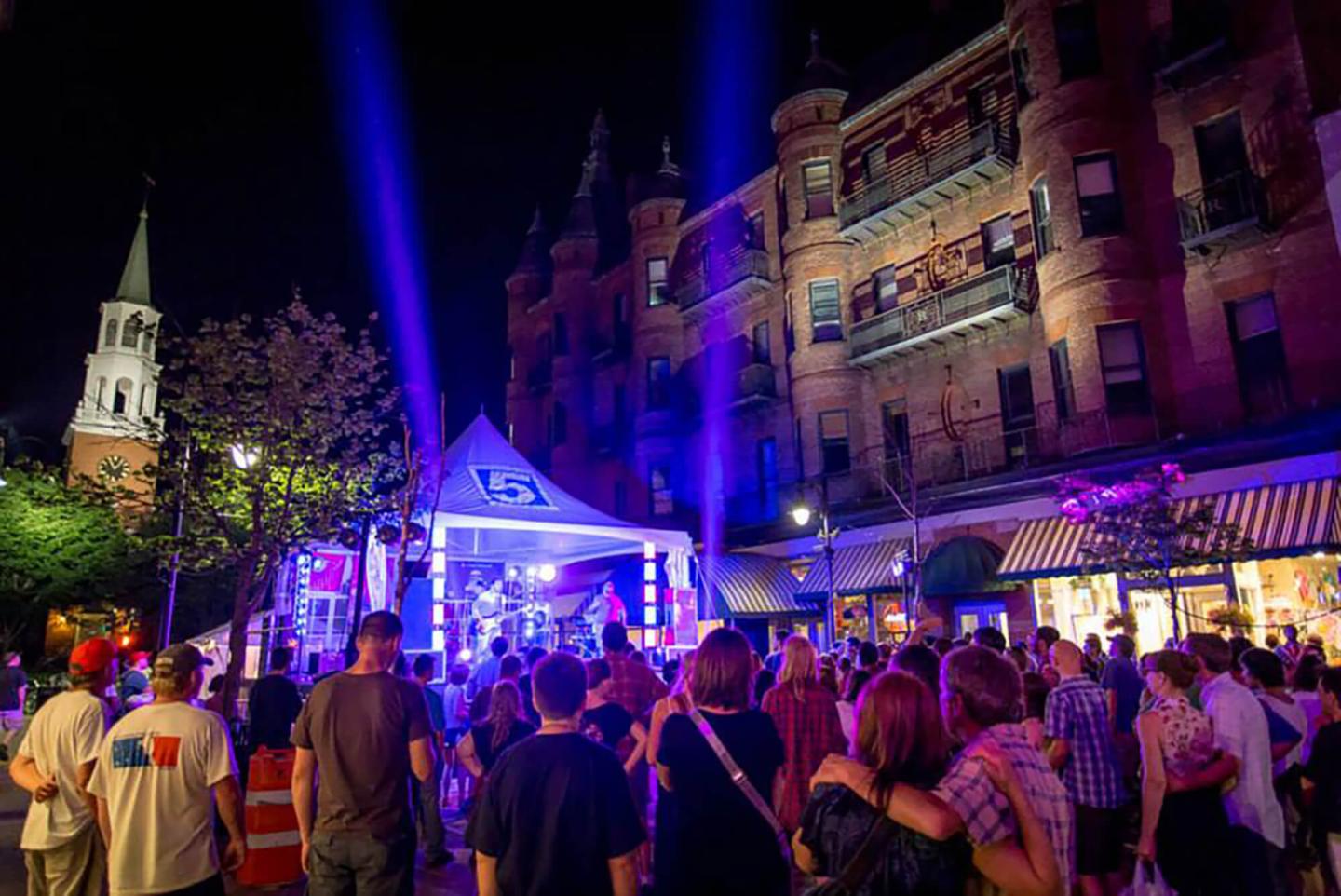 Burlington Discover Jazz Festival
Summer Music Festivals in New England
Nothing beats a New England summer. While the rest of the country sweats through the dog days, the northeast corner enjoys manageable temperatures with long days, warm nights, and endless celebrations of sound. Whether your playlist for the summer includes an afternoon of grooving on jazz standards, an evening of barefoot contra dancing to folk classics, or a late night of fist bumping to soaring rock ballads, New England delivers on summer sounds with some of the country's best summer music festivals.
Summer Jazz Festivals in Vermont, Connecticut, and Rhode Island
New England is a hotbed for summertime jazz. The Burlington Discover Jazz Festival in Vermont is one of the biggest in New England, with thousands congregating on Church Street and along the shores of Lake Champlain in late May and early June. Burlington is great for the whole family, and many festival-goers also take advantage of local breweries, nearby hikes in the Green Mountains, and a burgeoning culinary scene combining gastronomic innovation with local Vermont staples. Boutique accommodations like Hotel Vermont provide easy access to Church Street and boast a similar sweet spot between rustic and modern.
If Burlington's a bit far, there are some great summer music festivals for jazz in south of the Mass Pike/I-90 cooridor. Connecticut's Greater Hartford Festival of Jazz in July offers a weekend of live music in Bushnell Park in the capital city's downtown. With 50,000 festival-goers and counting, it's the largest free jazz festival in New England. Yeah, you read that right — free! As in, no admission cost, not "free jazz," though you'll probably find that as well. Contrast the urban festival with a quick drive and peaceful stay in the nearby Avon Old Farms Hotel. Connecticut doubles down on summer jazz festivals with the Litchfield Jazz Festival in August, featuring jazz professionals as well as youngsters from the Litchfield Performing Arts Jazz Camp. This one is great for those who prefer a scenic, rural setting. A day spent grooving in the serene Litchfield Hills pairs nicely with a trip to the Berkshires and a night spent at the Interlaken Inn in nearby Lakeville. Those looking for a jazz festival in coastal New England, should look no further than the legendary Newport Jazz Festival in Rhode Island. The festival in New England's Gilded Age vacation mecca has been around for more than 60 years, and features some of modern jazz's biggest names every year. The festival has special transportation packages that include buses from Manhattan, Brooklyn, New Jersey, or Boston, that deliver you right to the front gate of the festivities.
Related Post - Weekend Away: A Romantic Getaway in Newport, RI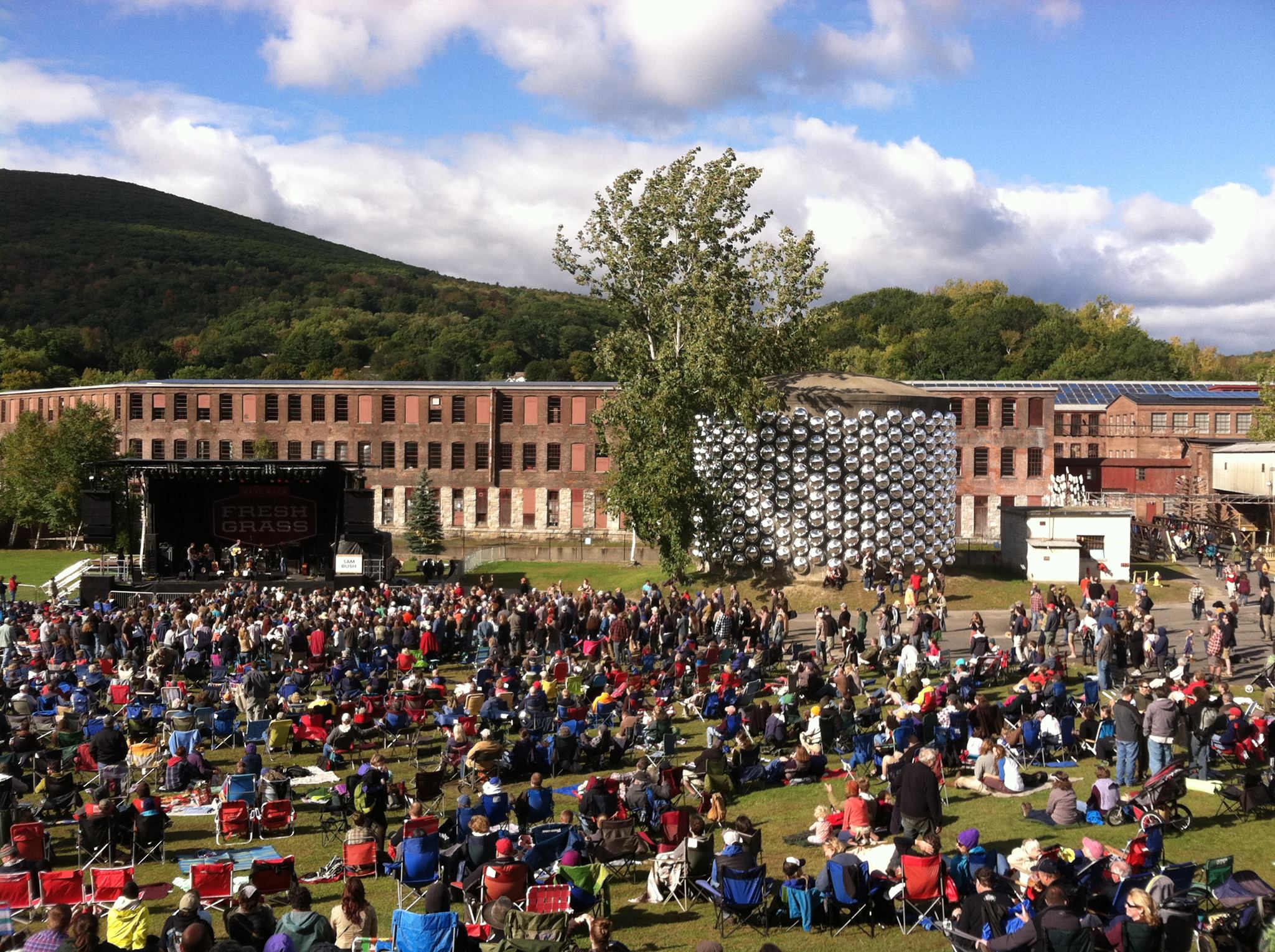 Folk Summer Music Festivals in New England
If your ears are craving something more old-fashioned (with a modern twist), check out the FreshGrass Festival in North Adams, MA, for progressive bluegrass and innovative Americana. This late-summer music festival twangs away within the walls of the MASS MoCA courtyard, a fascinating contemporary art museum within a restored industrial mill. This summer music festival is great for art lovers and architecture buffs alike. Take time to explore North Adams and marvel at the renaissance in progress that was catalyzed by the modern art museum. Check out the open studios in the artist residencies, wander along the river, and pop into The Porches Inn at MASS MoCA to stay the night. Porches is a natural extension of the art museum, bringing a modern approach to a retro New England inn. Another classic New England summer music festival is the yearly Mystic Sea Music Festival in Mystic, Connecticut. This June music festival features sounds of seafaring cultures from all over the world, joining to celebrate all things maritime. North Atlantic sounds with Celtic roots pay tribute to the sea alongside artists from Portugal, The Netherlands, Great Britain, and the Caribbean. We recommend the nearby Whaler's Inn  for when your sea legs get tired from dancing.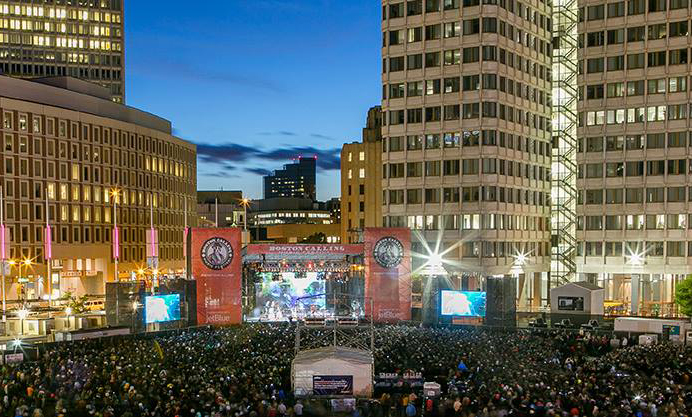 Summer Music Festivals in Boston
Looking for a hefty lineup of your favorite mainstream artists? Then check out Boston Calling, a summer music festival drawing chart-toppers and party-goers to City Hall Plaza in late May and early September installments. Visitors to this summer music festival get as rowdy as any, but it's one of hearty Boston experiences that makes this American city stand out. Rock out at the festival, then rest up at the nearby Omni Parker House or the Boston Harbor Hotel, before spending a day exploring the city.
Related Post - 7 Things to do in Boston
PHOTOS: Burlington Discover Jazz Festival, FreshGrass Festival at MASS MoCA, Boston Calling Music Festival