Best Towns in New England
[embed]https://youtu.be/GDG9ZVFa_tY[/embed]
Small New England towns have always had their own special charm. The seaside villages of rugged Maine coastline, the hamlets dotting the snowy peaks of Vermont, the famous harbors of Massachusetts — these are scenes embedded in the image of America as a whole. And so it's no surprise that many of New England's small towns are also regarded as some of America's Best Small Towns for 2013.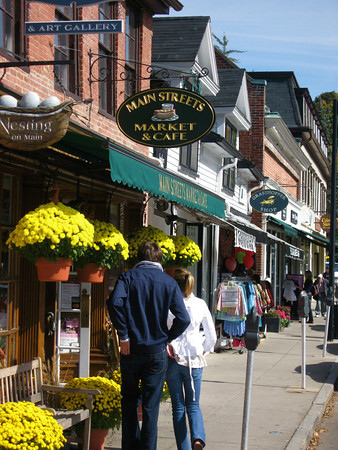 Provincetown, Massachusetts is on two 'Best Of' lists this year. Listed in the top 10 on Smithsonian Magazine's 20 Best Small Towns to Visit list, along with Fodor's 10 Best Small Towns in America, it's not hard to see where the praise for this town comes from. A small dot on the northern tip of Cape Cod, Provincetown — or "Ptown" as it's affectionately dubbed by locals — is known for its revolutionary art scene and its famously funky culture, as well as for being the first place in America the Pilgrims landed. If you're planning a visit, take a look at the fantastic Carpe Diem Guesthouse & Spa, or the fun and central Sage Inn and Lounge.
Another town not to be missed is Little Compton, Rhode Island. Listed in the Huffington Post's collection of America's Best Small Towns, this is possibly one of the most historic towns in America. Little Compton was settled in the 1600's and, fittingly, the town historical society is housed in a home from 1692. Not a history buff? Don't worry, Little Compton's got plenty more to offer, including fantastic seafood and an award-winning winery. Visitors can find plenty of lodging in nearby Newport, including the popular Admiral Fitzroy Inn.
Further north, you'll run into two more great towns, both in Vermont. Bordering the Connecticut River, Brattleboro takes the fifth spot in Fodor's 2013 list, and it's certainly worth a visit. Brattleboro offers a blend of classic New England charm and hip avant-garde culture. From unique downtown shops and quaint cafes, to waterfront brewpubs and art galleries Brattleboro's got it all. And it makes a perfect place to visit in the winter, conveniently located en route to a number of great ski resorts, as well as Forty Putney Road, a classic bed and breakfast walkable from downtown.
Head north on Interstate 89 until you hit Burlington, Vermont — you can't miss it. Located on the shore of the world-famous Lake Champlain, Burlington is Vermont's largest city, but it still retains its small-town charm, and it certainly earns its spot in Travel and Leisure's list of America's Favorite Towns. Myriad restaurant choices and a robust local beer culture make Burlington a foodie's paradise. Not to mention, you'll find plenty of things to see and do thanks to a vibrant arts scene and propensity for outdoor activity. Of course, there are fantastic places to stay as well, including the beautiful Essex Resort and Spa, located on 18 acres of Lake Champlain shoreline.
We could go on and talk about dozens more great New England towns, but by now you can probably see for yourself what makes them worth a visit. Between the history, the art, the natural beauty, and the wonderful people, you might just end up putting down roots in one of these towns. But in the meantime, we're sure you'll enjoy your next visit. And if you're looking for a place to crash, we know some great New England Inns & Resorts to make your small town stay that much better.
Photo Credit: Tim Grafft/Massachusetts Office of Travel and Tourism