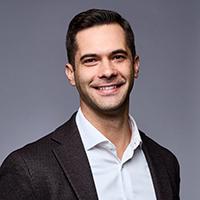 Thursday, April 6th 10AM
Presented by: TJ Walz
Senior Director, Data Strategy & Analytics | MMGY Global
Session Description
In this presentation, we will provide a high-level overview of the many things impacting media activation and measurement with the depreciation of the third party cookie and migration to Google Analytics 4 (GA4). We will then discuss MMGY's approach to combating these changes, namely through Terminal, our proprietary audience segmentation solution, and how it can help businesses better understand their customers and improve their marketing strategies. We will discuss the importance of first-party data and how businesses can prepare for the future of measurement and targeting. Overall, this presentation will provide valuable insights into the changing landscape of data-driven marketing and how businesses can adapt to stay ahead of the curve.
Digital Marketers, Data Analysts, Owners, General Managers and anyone interested in G4 and upcoming changes. 
BIO
TJ brings nearly 10 years of travel industry expertise to his role as Senior Director, Data Strategy & Analytics. He leads MMGY's Data Strategy and Analytics teams who are responsible for client performance reporting, measurement implementation, data storage and activation, market and audience analysis, and developing performance measurement strategies to align with client business objectives and KPIs. TJ serves as a member of HSMAI's Marketing Advisory Board and speaks to the industry on leveraging data and research as a pillar for marketing success. Prior to joining MMGY, TJ worked at Sojern where he and his team were responsible for managing direct response campaigns for individual hotel properties across programmatic display, paid search, paid social and metasearch platforms. At MMGY, TJ has worked across a variety of clients including City Experiences, Windstar Cruises, Virtuoso, Cunard Cruises, Colorado Tourism Office, Visit Myrtle Beach, United Airlines, Choice Hotels International and Knott's Berry Farm.