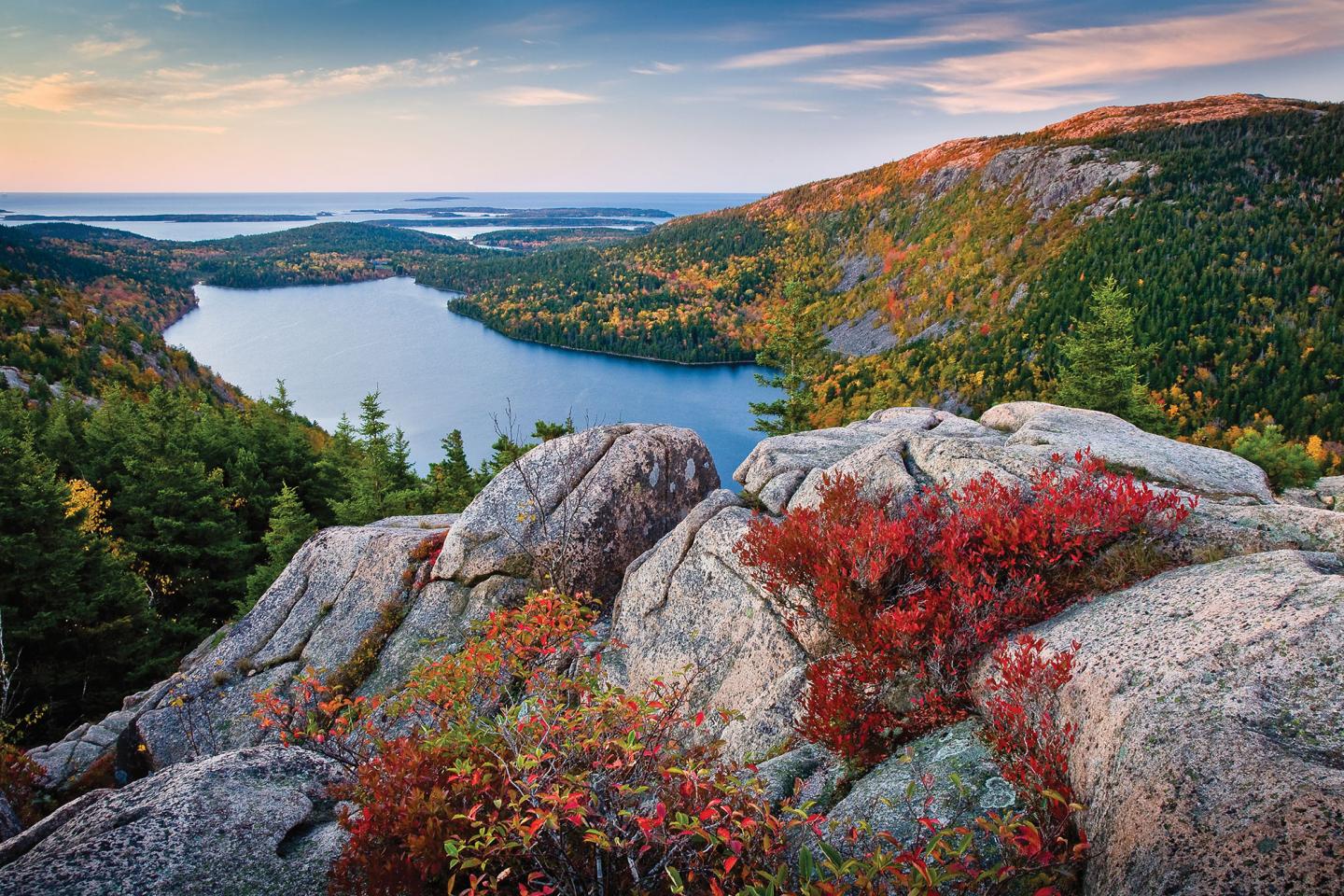 Acadia National Park, Credit: Maine Office of Tourism
The Grand Tour of New England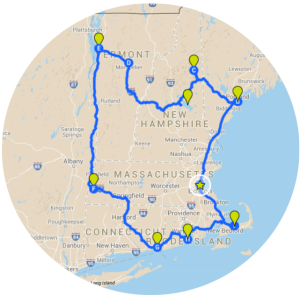 15 days, 14 nights
If time allows and it is your first visit to New England, a self driving road trip tour covering all six New England states will allow you a true taste of the region and all of its beauty and diversity. After leaving Boston, you will find wide open spaces, a friendly and hospitable welcome, and wonderful accommodations. Your hosts and innkeepers will serve as local sightseeing guides pointing you toward those perfect places to enjoy the scenic beauty of New England.
Day 1 — Boston, Massachusetts
Most international visitors arrive in New England at Boston's Logan Airport. Conveniently located just three miles from downtown, Logan's international terminal allows for a speedy transfer through customs and immigration and into the city. There are a variety of ways to get into the center of Boston, including public bus, subway and taxi.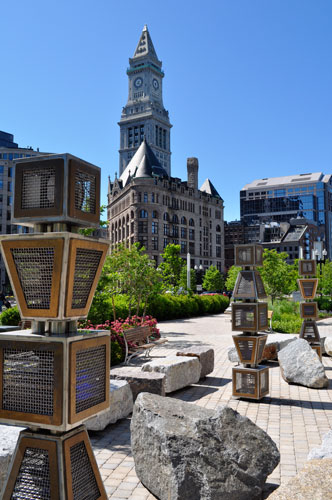 Remember not to rent a car until you are heading out of the city — you will not need a car in America's "Walking City" and parking fees downtown are particularly expensive. Most rental car companies will allow for downtown pick up or failing that, the short journey back to Logan Airport is worth it on your day of departure from the city. Boston is the capital of Massachusetts and the unofficial capital of New England. A sophisticated and charming city, it is relatively small and walking is the best way to get around. Many international visitors feel very comfortable in Boston as it is the most 'European' of all American cities, with distinct small neighborhoods such as the North End, filled with lively Italian restaurants and cafes; the Back Bay, where wonderful shopping streets are filled with every designer shop imaginable; and Beacon Hill, with its cobbled streets and brown brick townhouses. Spend at least two nights in Boston to get the best feel for the city.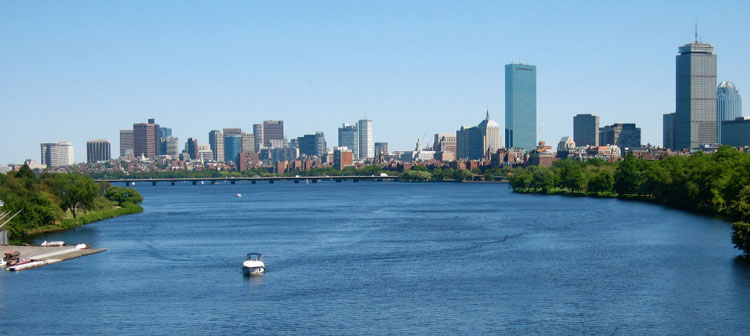 Day 2 — Boston
Spend the day exploring Boston's unique history and locale. Here are some ideas to get you started:
Day 3 — Boston to the Maine Coast
Leave Boston today to begin your road trip and head north up the coast and into Maine. Time allowing, you should stop and visit any one of the wonderful small towns on the coast. Salem, Mass., is known for the infamous Salem Witch Trials and is home to the amazing Peabody Essex Museum, whose collections include art and cultural artifacts from all over the world. A little farther north is the pretty artist colony of Rockport. A helpful note: most highways in New England have speed limits of 55-65 miles per hour (90-105 km/h).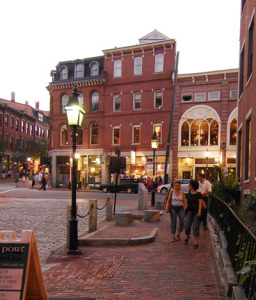 The rugged state of Maine is as big as all the other New England states put together; on this tour, you will explore a little of its spectacular coast. Picturesque fishing villages are nestled together along a dramatic coastline. Don't forget to sample some of Maine's fine culinary delights — lobsters and blueberries! You may prefer to stay in the southern coastal areas, in the beautiful coastal towns of York, Kennebunkport, and Ogunquit, or continue north to Portland, a lively port town with a rich historic and cultural heritage and a budding culinary scene.
Search for accommodations in: Portland, Maine • Ogunquit • York • Kennebunkport
Day 4 — The Maine Coast
Spend the day exploring the coast of Maine: a visit to Portland with its many small galleries, shops, restaurants and museums, is a treat for city-lovers. Maine's smaller, coastal beach towns are especially popular for their family-friendly sandy beaches, fresh seafood and relaxed atmosphere. For a quintessential Maine experience, take a lobster boat ride from Perkins Cove in Ogunquit, or stop by one of the many lighthouses along the coast, such as the Nubble Light in York or the Portland Head Light. Many fine small museums that scatter the coast, like the Wells Auto Museum and the Ogunquit Museum of American Art. Freeport, Maine, is also a good day's stop for outlet shopping in a beautiful New England village.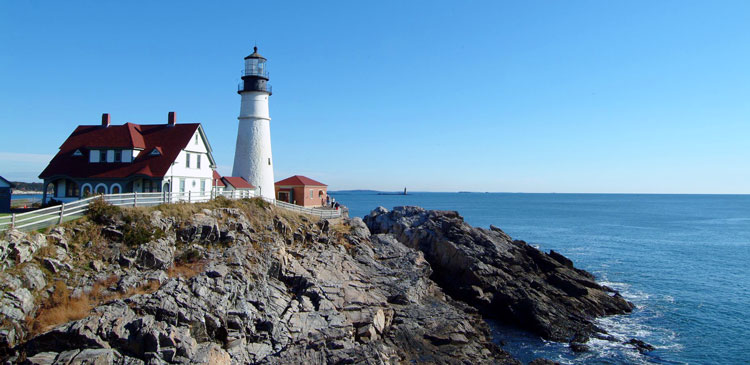 Day 5 — Maine to the White Mountains of New Hampshire
Today, drive west through Maine and into New Hampshire's White Mountains region.  The drive will be longer today as there are no major highways to take you east-west in this part of New England. In New Hampshire, beautiful shimmering lakes and high mountains dominate the landscape, as the road winds through pretty villages. A paradise for hikers in the summer and a playground for skiers in the winter, the scenic White Mountains provide the perfect backdrop for outdoor recreation or quieter relaxation. A day of traveling can end on a high note with a trip to the top of Mount Washington, the tallest mountain in New England (6,289 ft / 1,917 m). In the summer, you can get to the summit on foot, by car on the 8-mile toll roador via the Cog Railway on a steam train. In the winter, the auto road can still be traveled, but only on a snowcoach tour.
Day 6 — New Hampshire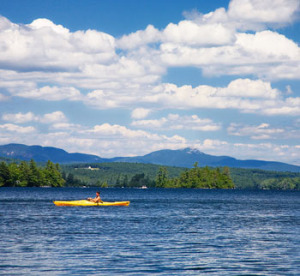 Spend the day exploring northern New Hampshire. A wonderful tour for driving follows the Kancamagus Highway between Lincoln and Conway, one of the most scenic in the USA. It also offers a chance to visit the Flume, a natural granite gorge with wooden walkways and rushing waterfalls. If souvenir shopping is on your list, New Hampshire is also tax-free and North Conway is one of the premium outlet shopping areas in the region. You can also travel a little further south into the Lakes Region of New Hampshire. Lake Winnipesaukee, the largest lake, offers everything from great sailing and fishing to relaxing water cruises on paddleboats.
Day 7 — Into Vermont's Green Mountains
Continuing the tour westwards, Vermont is the next stop. The Green Mountain State is known for its pristine landscape, rolling hills and the romance of small communities where white church spires poke up between the mountains. There are many lovely places to stay in Vermont, and you can choose to stay in the northern, central or southern part of the state. You will have the opportunity to experience the twisting country roads, mountain views, small towns, art galleries, country stores, locally-grown food and working farms throughout the state. One suggested stop in Vermont is the the state capital city, Montpelier. It is the smallest state capital in the country with just 8,000 residents. The town looks like one you might have seen in the movies, and is dominated by the gold-leafed dome of the Vermont State House. Continue on to Waterbury and take a unique factory tour at the Ben & Jerry's Ice Cream Factory and then onto Stowe, a charming mountain resort town nestled at the foot of Mount Mansfield.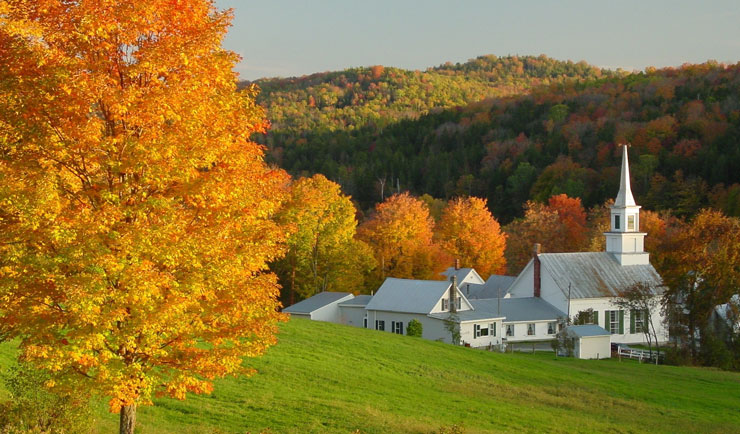 Day 8 — Vermont
On your first full day in Vermont, make time for a visit to Burlington, Vermont's largest city. Many points in town offer beautiful views of Lake Champlain and the Adirondack Mountains in New York. Burlington's large student population gives it a great "buzz" — nightlife, restaurants and music halls are busy year-round. A pedestrian-only shopping street, Church Street, is the heart of the city with a mix of local and high-end boutiques, restaurants and bars. Burlington is also an ideal place to sample some of Vermont's famous craft beer. Spend the night in Burlington, or get a head start on the next day's travel by heading south. Route 100, the "Skier's Highway," winds down the spine of the Green Mountains, past ski resorts, lakes, and gorgeous views, with plenty of opportunity to stop for the night in quaint Vermont towns.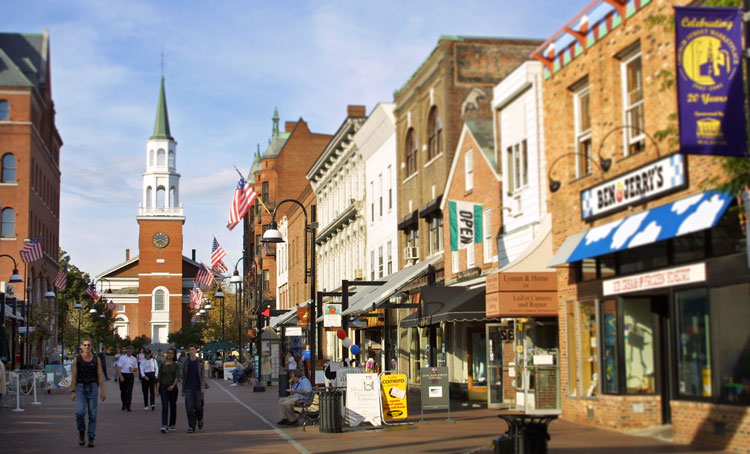 Day 9 — Vermont to The Berkshires, Massachusetts
From Vermont, head south and into the lovely Berkshire Mountains of western Massachusetts. Charming Stockbridge is the heart of a region packed with culture and charm. In summer, the hills are a hot spot for musical talent, as the Tanglewood Music Center becomes home to the Boston Symphony Orchestra. Summer theater and dance performances are abundant, as is cutting-edge modern art at Mass MoCA and fine art at the world-class Clark Institute in the lovely college town of Williamstown.
Day 10 — To Connecticut
Continue your journey southwards and into Connecticut. Stretching east from New York City, Connecticut's varied landscape includes wooded hills, rural farmland, rocky shores, and wide beaches. Many areas have beautifully preserved clapboard homes set amidst well maintained villages like Essex and Chester.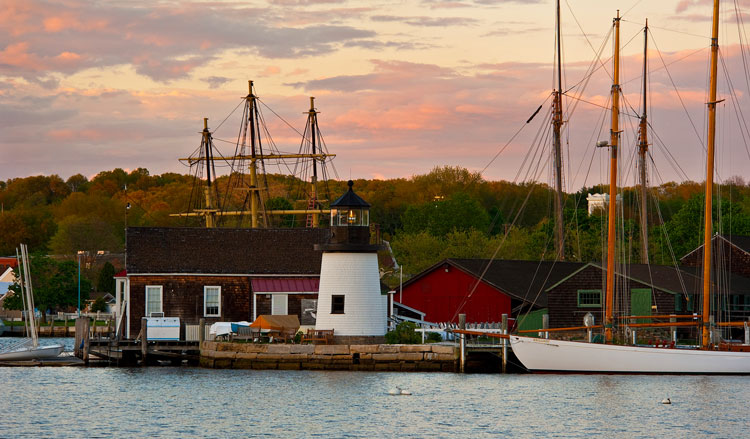 Travel south until you hit the coast of Connecticut, where there are many small towns that are worth exploring. Mystic is a good choice for a stop. Visit the Mystic Seaport, a living history village with working craftsmen, the world-class Mystic Aquarium or the Mashantucket Pequot Museum, which depicts Native American life in southern New England.
Day 11 — Newport, Rhode Island
A must on any visit to New England, Newport is as famous for its seaport history and Gilded Age mansions as its superb summer festivals. The cliff top mansions are truly magnificent homes, many built by the wealthy industrialists of the nineteenth century as a place to escape the summer heat of New York City. Beautifully preserved, you can tour 11 of these historic homes from different periods in American history. Save time to stroll along the Cliff Walk, with great views of the ocean, or to enjoy the downtown fun of Newport.
Days 12-14 — Cape Cod, Massachusetts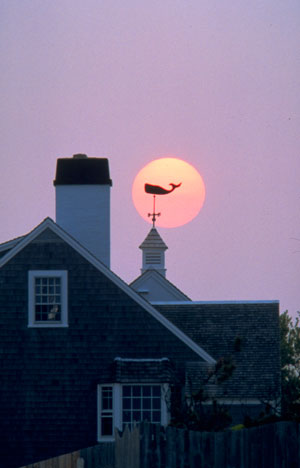 A perfect way to end your visit to New England is to stay for a few days on beautiful Cape Cod. Base yourself in any one of the charming small towns and villages along the Cape and enjoy spectacular beaches, museums, music festivals, antique stores, sailing, great golf courses, and whale watching. Spend a couple of days in Cape Cod, enjoying the beaches, sun and sand on the high dunes and long beaches of the National Seashore. You can also explore the small towns and villages of Cape Cod, characterized by beautiful clapboard architecture, faded to a dusky grey from salty air. From spring until autumn, you can take a whale watching boat tour from many parts of New England — the feeding grounds for the humpback and finback whales are found just 30 miles (50 km) off the Massachusetts and New Hampshire coasts. These magnificent creatures played a huge role in New England's history: the whaling industry flourished here. Today, whales are protected but the history of whaling in New England can be seen at several area museums. A day trip to Martha's Vineyard or Nantucket is an option as well — ferries to the islands run year-round, though passages are more frequent in the summer months. The best way to explore the beautiful island landscapes is on a bike. Nantucket Town is a sight to see, thanks to its Georgian houses, old-fashioned street lights and brick pavements. Martha's Vineyard is closer to mainland Cape Cod, and a little larger, with several distinct and interesting towns. Both islands have great shopping, lovely sights, and the freshest seafood you can get.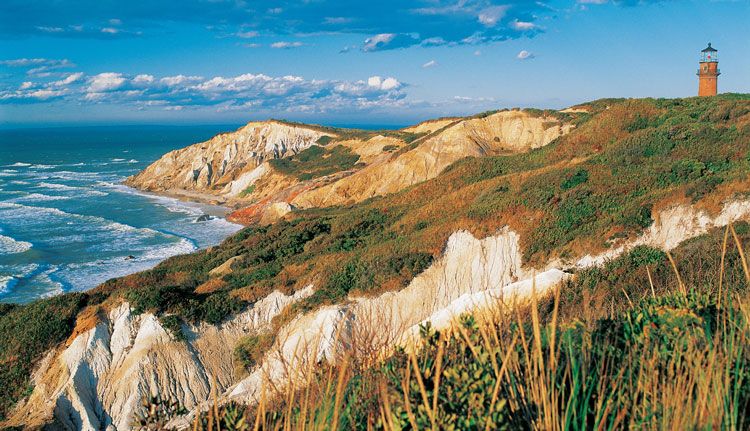 Day 14 — Cape Cod & Plymouth
History enthusiasts, don't leave New England without a trip to Plymouth, Massachusetts, and the Plimoth Patuxet (formerly the Plimoth Plantation). Plymouth is where the first Pilgrims settled back in 1620 after first landing in Provincetown. Plimoth Patuxet is a recreated Pilgrim settlement, where costumed interpreters work, eat and speak as the 17th-century colonists did while Native Americans demonstrate traditional methods of building homes and canoes.
Day 15 — Boston for Departure
Cape Cod is approximately a two hour's drive from Boston (depending on your exact location on the Cape), so depending on your flights, you may want to relax on the beaches of the Cape this morning or start the day in Boston. After a grand tour of this size, a leisurely morning is just the ticket.