1. Lay Back and Relax
Forget the hectic, hurried Thanksgivings of years past. There are no rushed trips to the grocery store for the cranberries you forgot, or accidentally overcooking the green bean casserole, when you enjoy a Thanksgiving Day getaway at Snowvillage Inn in Eaton, New Hampshire. The serene setting is perfect for you to do nothing more than lay back and relax.
The relaxation starts as soon as you arrive, with a welcome cocktail by your in-room fireplace, along with some homemade cookies, of course. Cozy up and sleep as long as you want, before enjoying the magnificent views from the inn itself — or, you can get up close and personal with the great outdoors, with a short hike. The summit of Foss Mountain is just nearby. Grab a hiking map and enjoy the 20-minute stroll to jaw-dropping views. Afterward, you'll feast on an amazing Thanksgiving dinner with a menu inspired by true New England classics.
Plus, if you want to bring along the entire extended family for your getaway, Snowvillage Inn's Chimney House, with its four guestrooms, is perfect for a weekend of reconnecting and recharging.
2. A Thanksgiving for Everyone
Regardless of where you are this holiday season, it's difficult to please every single person in your family. Dad wants to catch the football game, while Mom wants to head out for some pre-Black Friday sales, and the kids are just happy to have some sugar-fueled fun.
At Preserve Sporting Club & Residences, the Preserve Activity Package pleases everyone. Mom and Dad can relax in the hot tub or with a Rhode Island craft beer, or even a luxurious treatment at OH! Spa. Meanwhile, the kids can splash around in the heated pool, only after enjoying a holiday kids craft breakfast every morning. Later, the whole family can head out on a fall excursion to explore the town of Richmond with a visit to Spring Hill Sugar House, a classic farm with pumpkin picking, a corn maze, and delicious apple cider. 
And don't forget the turkey! Preserve Sporting Club & Residences serves up a scrumptious traditional Thanksgiving dinner.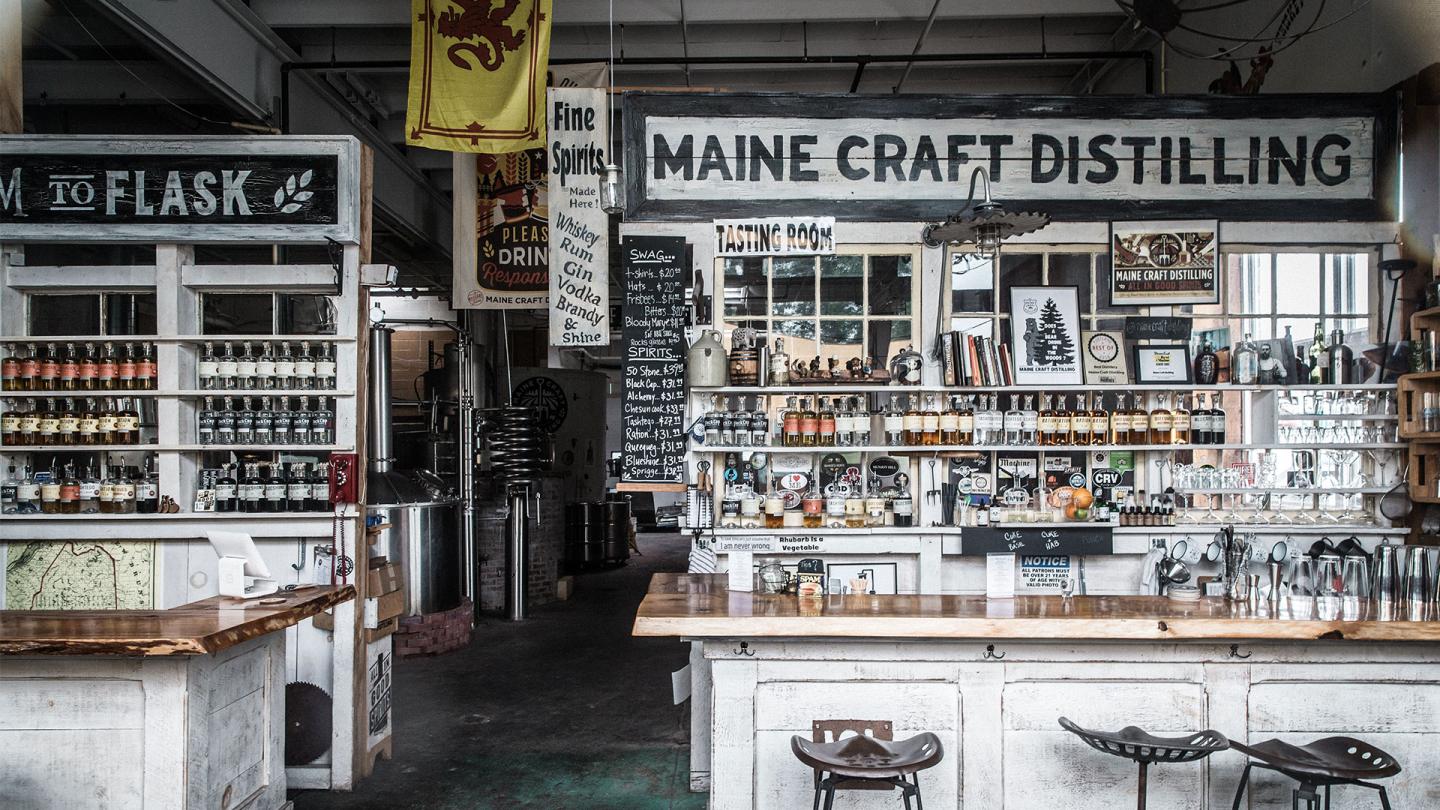 Maine Craft Distilling, Portland, Maine.
3. Relaxing Romance, After the Fact
Perhaps your family obligations require you to stick around on the day-of. There's still plenty of fun you can have in New England without sacrificing your beloved family Thanksgiving traditions.
After the hubbub of the holiday is over, get away with your favorite person to DELAMAR West Hartford. The property's "Spacation" experience is true R&R in a full luxury setting.
A signature DELAMAR massage will relieve all that tension from standing over a stove the day before (as well as the stress of seeing your in-laws!), but the special amenities only start there. You and your significant other will also enjoy Champagne for two and dinner at Artisan Restaurant, as well as breakfast.
When you're all de-stressed and ready to enjoy the season again, take advantage of your complimentary admission to the New Britain Museum of American Art.
4. A Luxury Thanksgiving
Famous and well-off families have been vacationing on Martha's Vineyard for decades. Join the elite with a Thanksgiving in Vineyard Haven, Massachusetts, at a beautiful luxury boutique inn, no less.
Nobnocket Boutique Inn is known for its stunning, contemporary interior design and lavish feel. Here, you'll never get bored as there's plenty to enjoy on the island over Thanksgiving weekend, including the Annual Vineyard Artisans Festival. Support the small businesses of Martha's Vineyard with a little shopping for everyone on your list.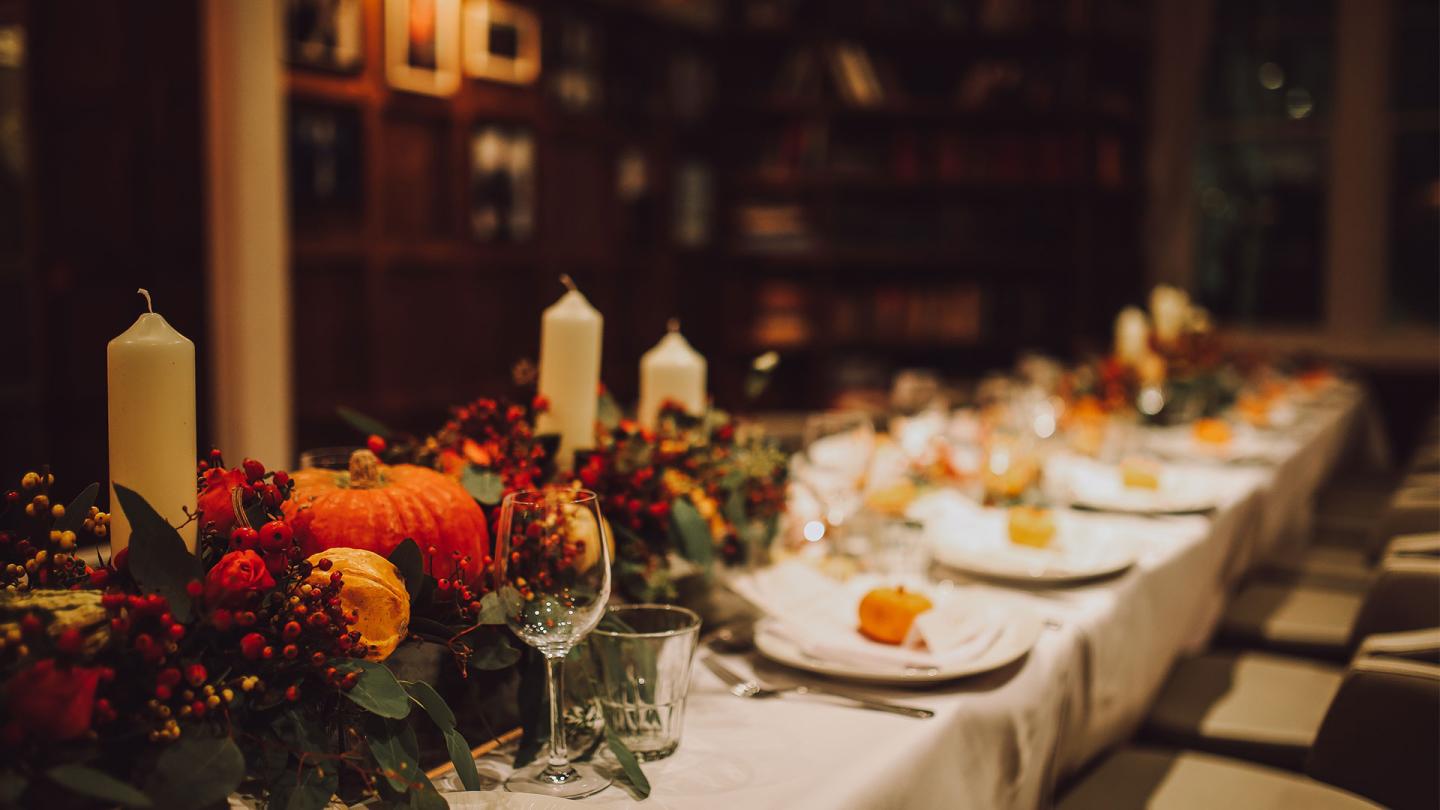 5. A Taste of Maine
Did Thanksgiving not quite sate your appetite? If you're still hungry after all that turkey, skip the Black Friday shopping and head to Cape Elizabeth, Maine, where Inn By the Sea offers a true Taste of Maine.
A Portland tasting tour allows you and your guest to explore the history of the city, while chowing down on deliciously fresh seafood, artisanal cheeses and more. Wash it all down with some handcrafted beer. After your tour, try even more culinary options at the inn's Sea Glass, an ocean-view eatery serving up three-course dinners. Then, head back to your guest room for complimentary whoopie pies and a bottle of Maine wine.
6. A Taste of Massachusetts
If Massachusetts is a little more accessible for you than Maine this Thanksgiving weekend, head on over for a two-day stay at The Platinum Pebble Boutique Inn in Harwich. Over Friday and Saturday, taste your way through Cape Cod.
It all starts with a gourmet breakfast, followed by a tour of the local coffee roasting plant. Lunch is at the best pizza joint on Cape Cod, before you head off to tour a nearby brewery. More stops on your itinerary include a local chocolate shop, Portuguese bakery and lobster roll heaven.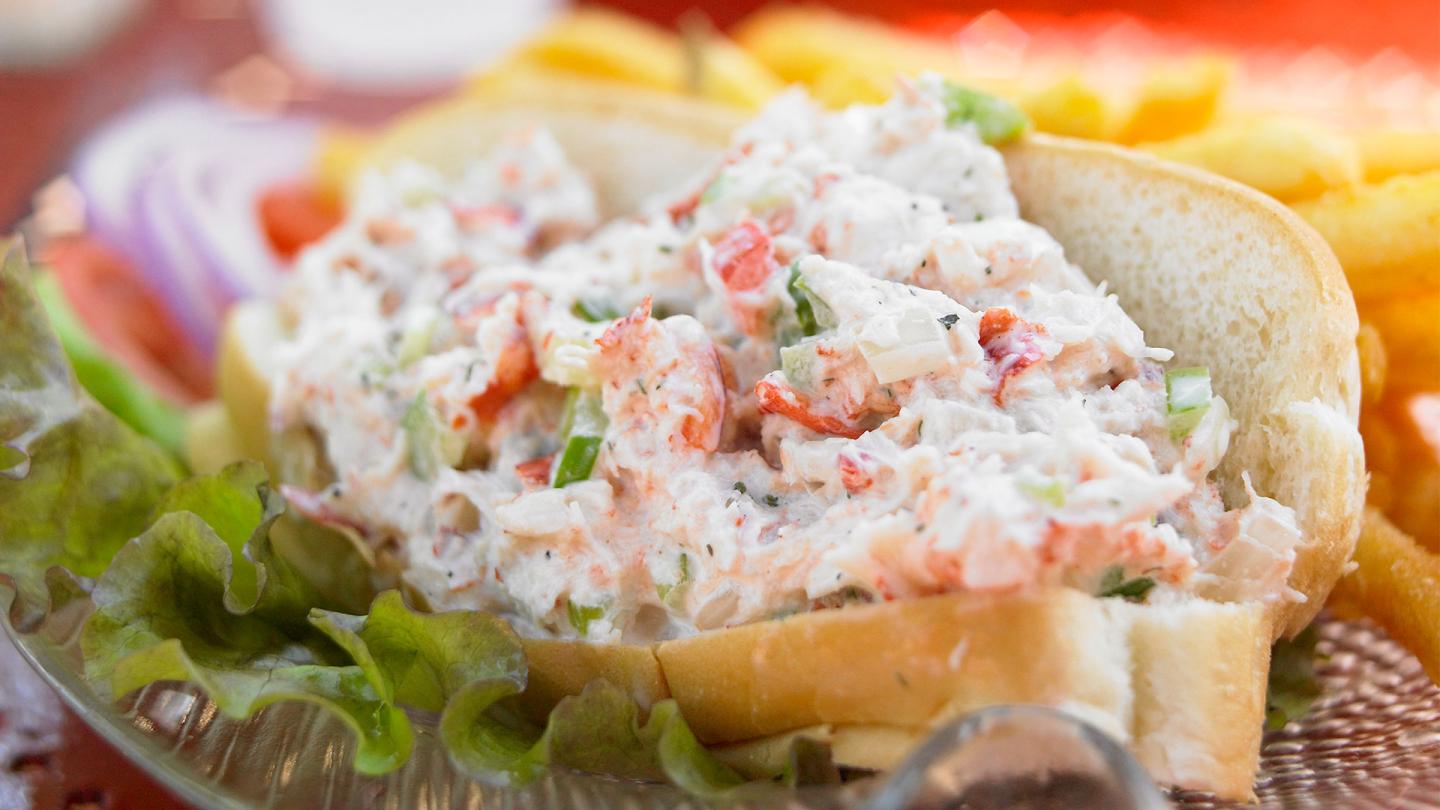 7. Uncovering Your Inner Chef
Maybe you didn't get the chance to help out in the kitchen this Thanksgiving. If your culinary skills could use a little help, let the Cook Academy at The Essex, Vermont assist. Over two days, you'll uncover your inner chef with a cooking class for two at the resort and spa, before enjoying an extravagant dinner at the restaurant Junction.
But after all that eating this weekend, you'll want a way to work it off. Thankfully, Vermont's ski slopes will be in full swing by your visit. There are quite a few scheduled to open on or before Thanksgiving.
You have an entire host to choose from: Killington, Mount Snow, Okemo Mountain, Stowe Mountain, Sugarbush, Stratton Mountain, Smugglers' Notch, Bromley Mountain and Jay Peak. Check them out and pick the best one for you based on location and the activities offered.
8. Indoor and Outdoor Fun in New Hampshire
The ski fun continues in New Hampshire, where resorts are likewise opening up in time for post-Thanksgiving travelers. Try Loon Mountain, Bretton Woods, Canmore Mountain, Mount Sunapee, Cannon Mountain or Waterville Valley.
If Loon Mountain is your destination of choice, you can stay at The Mountain Club on Loon for stunning views, a relaxing setting, and access to a collection of exciting activities. The resort offers everything from cooking school to ziplining, with skiing, mountain biking, and rock climbing in between. All you have to do is choose your adventure.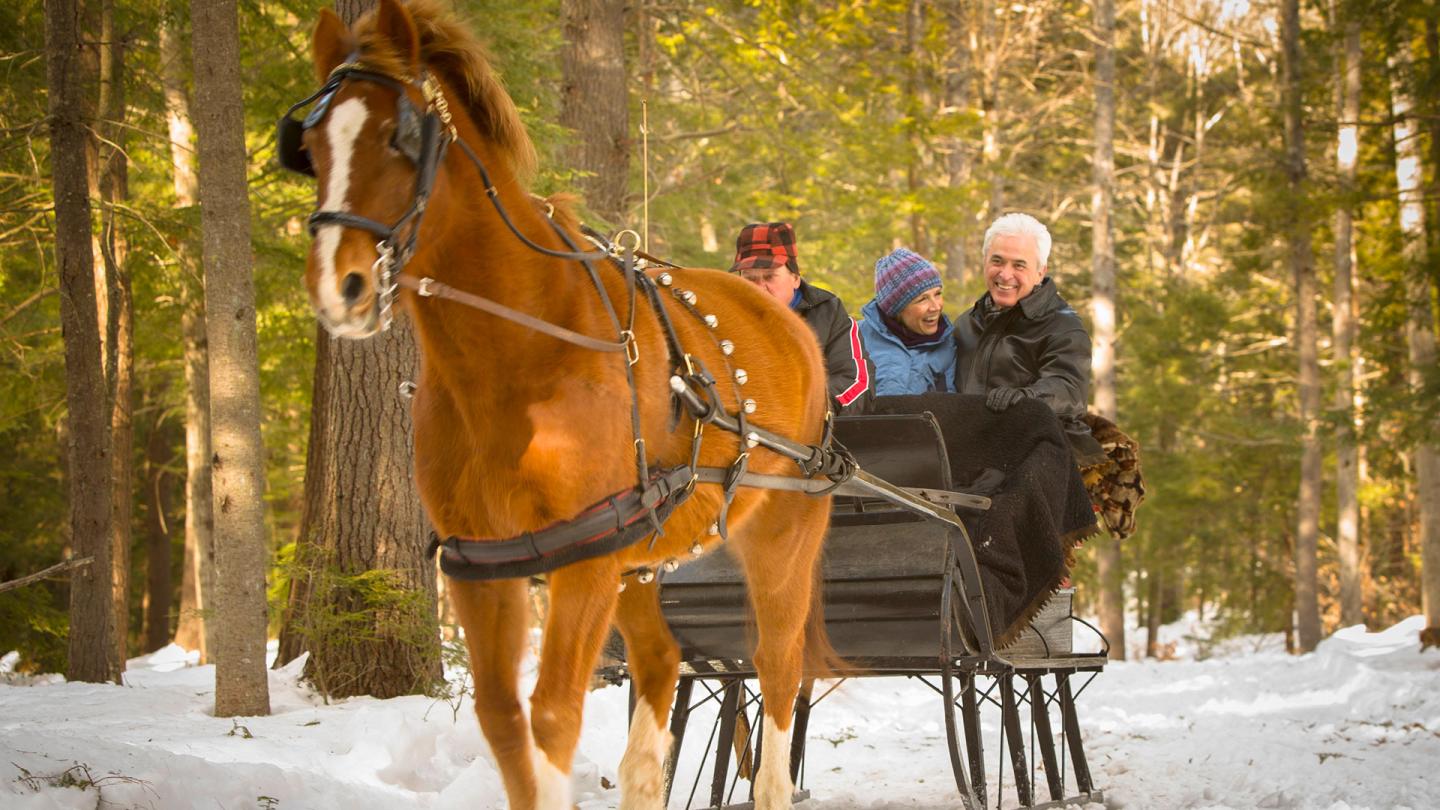 New Hampshire - Horse-Drawn Carriage Ride
9. Take the Edge Off
Need to take the edge off after a stressful Thanksgiving? The Vanderbilt in Newport, RI is your answer. With a delightful dining package, you'll be rising on the right side of the bed each day of your relaxing stay. Savor some of our favorite twists on New England classic breakfasts before setting out to explore the rest of lovely Newport, including the multitude of shopping opportunities and the Instagram-worthy historic district. Bundle up, though—it'll be chilly!
10. A Thanksgiving Feast
If your family never fails to somehow burn the turkey, opt for a gourmet Thanksgiving dinner served up in style, at Mad River Barn in Fayton, Vermont. The holiday menu features fresh favorites sourced from local farms as they remain true to their commitment to local community sustainability. Here, you'll leave the table with a satisfied belly and a full heart. 
If you can still move after all this feasting, head over to Sugarbush Resort, the nearby skiing destination, open in time for the holiday and all weekend long.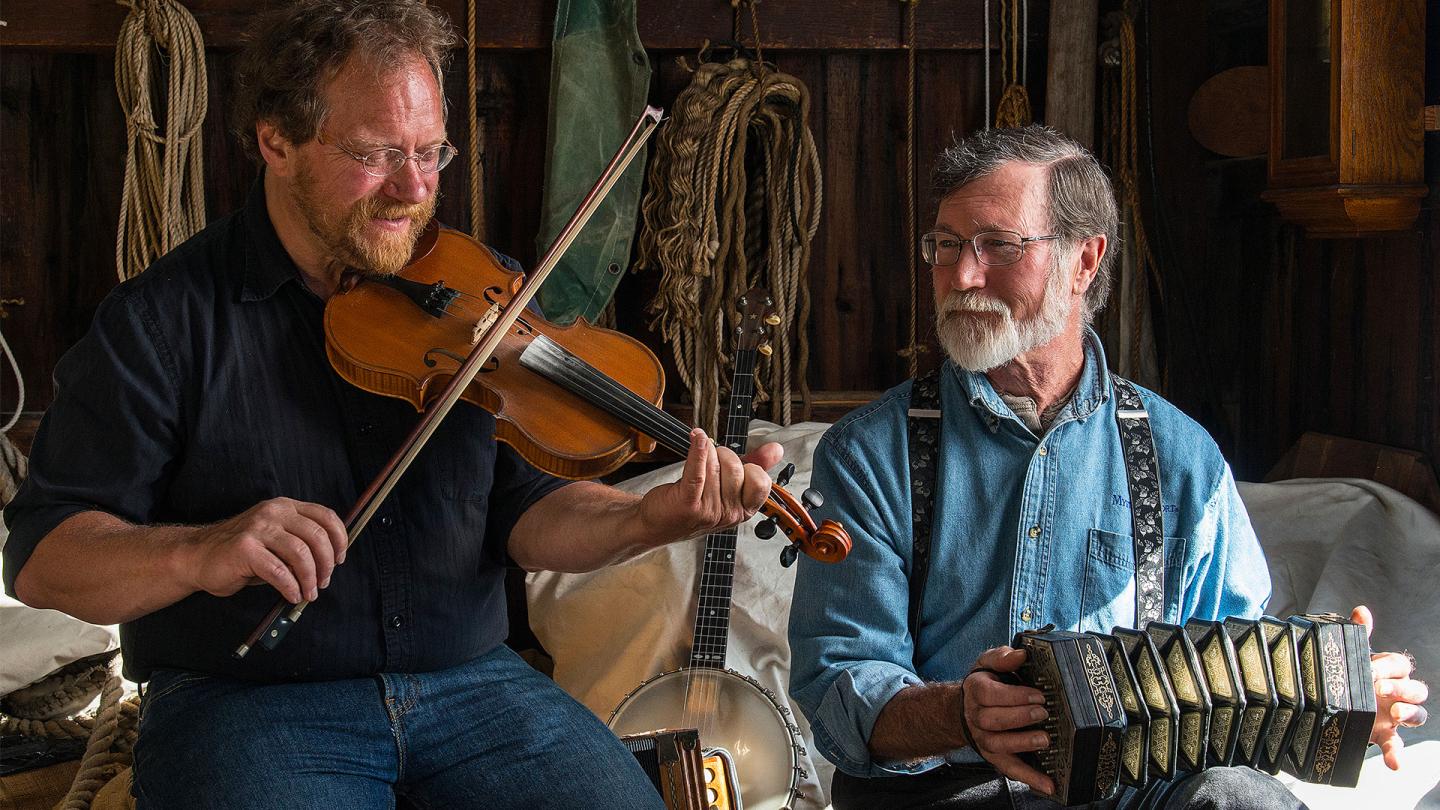 Musicians in Connecticut
11. A Different Parade
We all know The Macy's Thanksgiving Day Parade, but who wants to deal with all the hassle of attending that major event? You can still watch an amazing Thanksgiving parade, though, when you visit Stamford, Connecticut. The city's annual UBS Parade Spectacular is one of the largest helium balloon parades in the country.
If you want to attend and easily get to and from the parade on Thanksgiving Day, stay at Stanton House Inn in Greenwich. This historic mansion not only offers luxurious accommodations, but also complimentary breakfast and premier shopping within walking distance. It's also a quick 15-minute drive from Stamford so you won't miss a thing on the day of the parade.
12. Get into the Holiday Spirit
Are you the type of person who puts their Christmas tree up the day after Halloween? Then a Christmas-themed Thanksgiving getaway might be right up your alley! Providence, Rhode Island, is a great destination if you're looking to get into the Yuletide spirit. The city's burgeoning theater scene puts plenty on display during the Thanksgiving holiday weekend. Stay at The Beatrice for luxury lodging that's just a 10-minute walk from the holiday spirit of bustling downtown Providence.