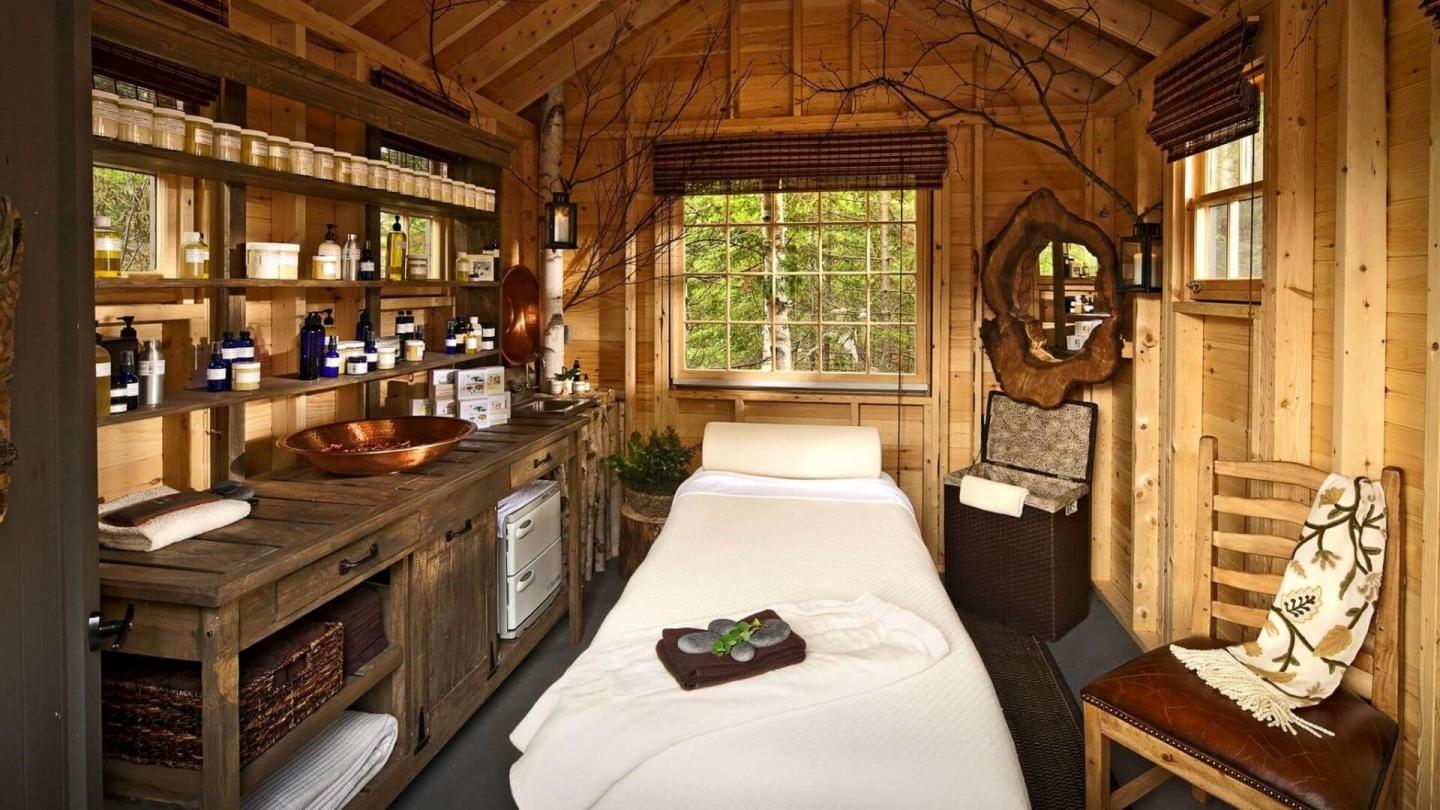 https://hiddenpondmaine.com/guest-cottages/two-bedroom-cottages/
Hidden Pond (Kennebunkport, Maine)
Hidden Pond makes the recipe for relaxation look easy. Start your day with a morning stretch, followed by yoga and Pilates in the beautiful and serene gardens at the inn. Afterward, refresh at your cottage or bungalow. The resort's new Treetop Lodges feature an outdoor shower under the canopy of the forest.
Next, mix in time to explore the lavish 60-acre grounds, and sprinkle in a journey to the port town's eclectic coffee shops, antique stores and boutique retailers. Be sure to reserve time at the tranquil Tree Spa for a relaxing massage or other soothing treatment. Cap the day with a savory meal at the hotel's noted "farm-to-fork" restaurant and an intimate moonlight stroll or take a dip in the hot tub.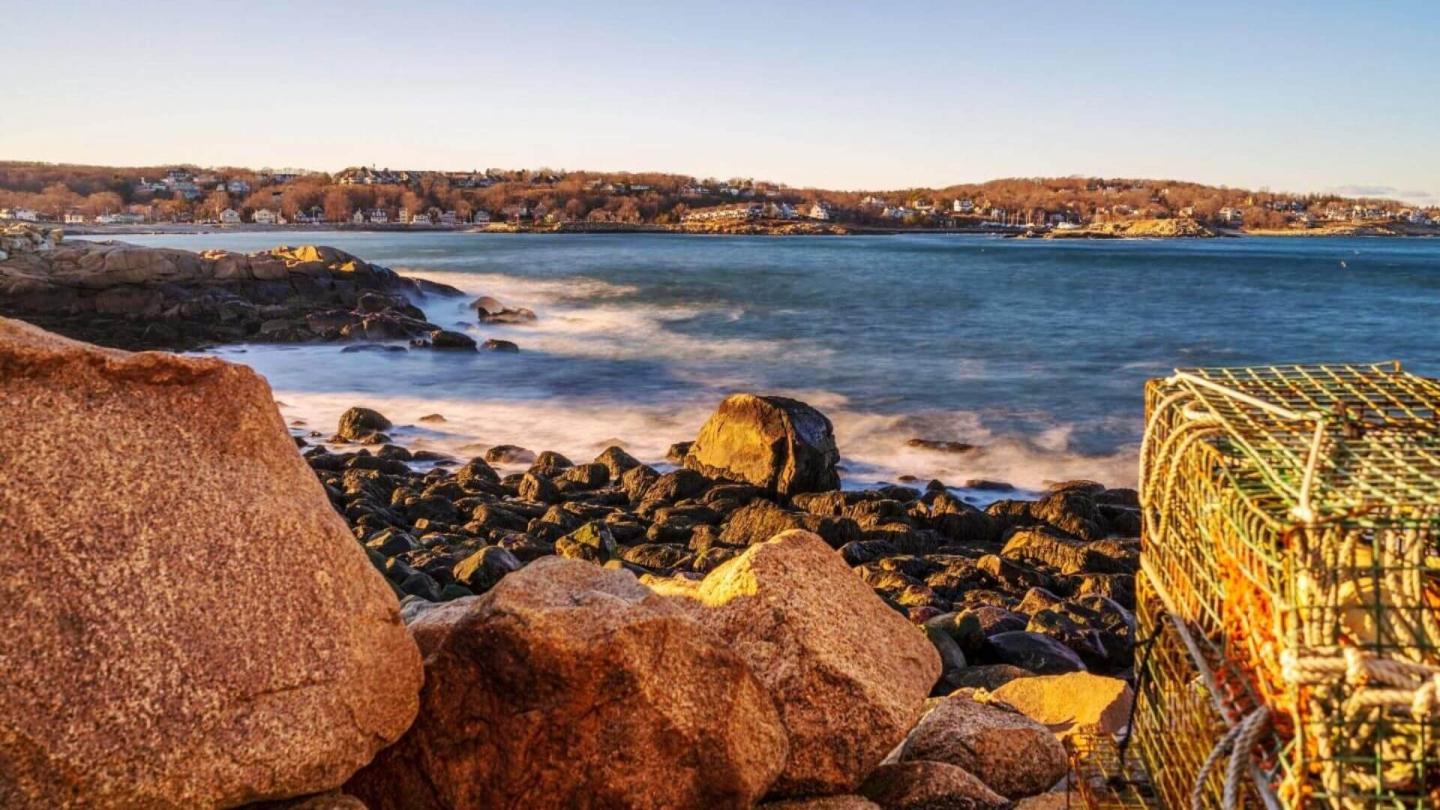 Addison Choate (Rockport, Massachusetts)
For many, a daily dose of fresh ocean air is all that is needed to feel better. At Addison Choate in the quaint seaside village of Rockport, Massachusetts, the historic inn puts you right on the ocean with a bevy of to-dos and complete relaxation at your fingertips. Located in the core of Rockport, the hotel is within walking distance from all the shops, galleries, beaches, sunset cruises and the performing arts center.
The hotel was originally a mid-19th Century home before it was renovated to the studs with all of today's 21st Century amenities. The result is the ideal combination of vintage-meets-contemporary that's a hit with families, romantic couples and even the most discerning independent travelers.
Mayflower Inn & Spa (Washington, Connecticut)
If you've ever spent any significant amount of time in New York City, you know how important it is to disconnect occasionally. When it's time to disconnect, the Mayflower Inn & Spa in Washington, Connecticut, is only two hours from downtown Manhattan and offers a much-needed breather from the rigors of metropolitan life.
At the historic New England country inn, guests can choose from 30 unique luxury experiences across four different buildings: Allerton Cottage, Mayflower House, Speedwell Cottage and Standish Cottage. The opulent boutique hotel has a tranquil, 20,000 square-foot spa for a restful relaxation, and the onsite restaurant features seasonal menus made from regional ingredients – many of which are grown in the gardens at the inn.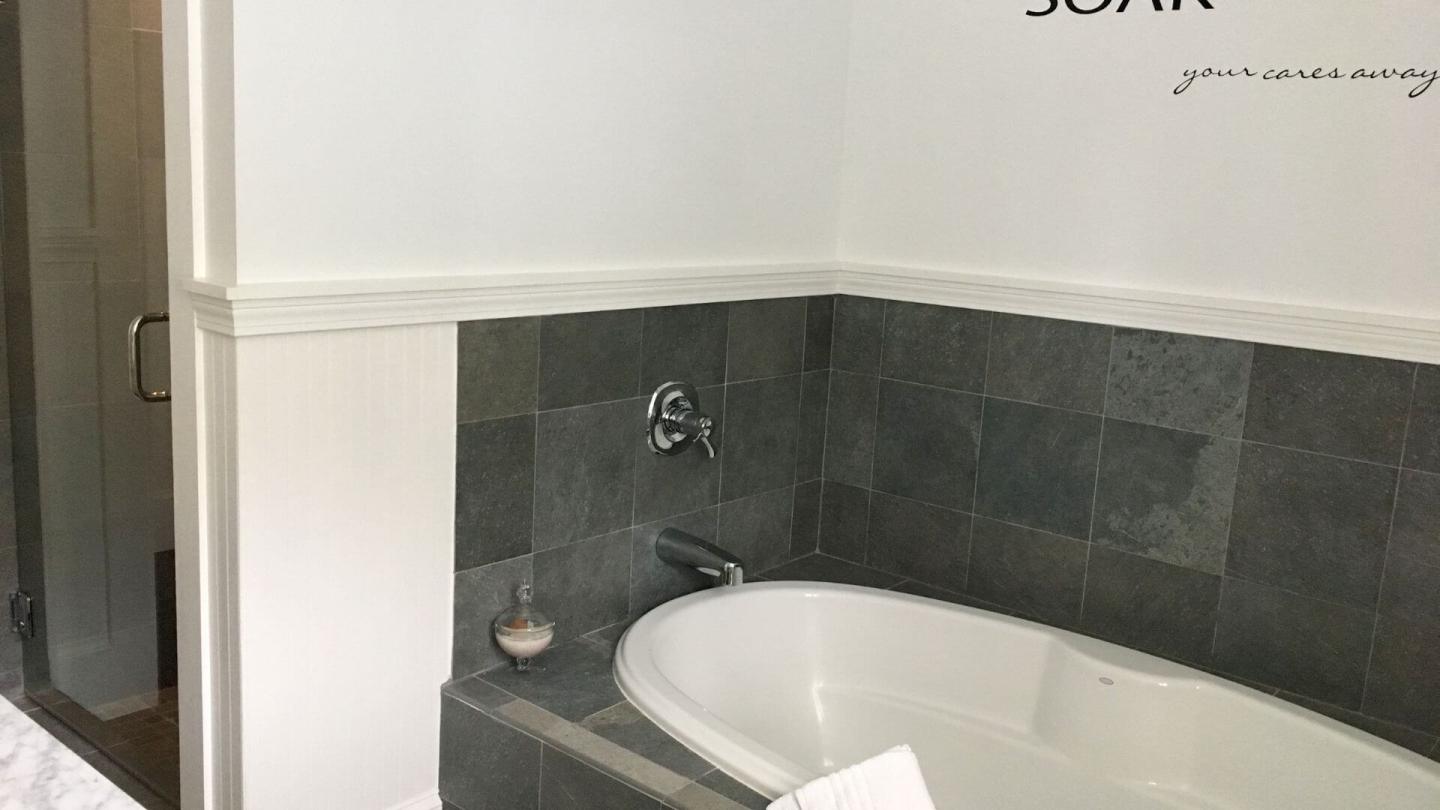 https://www.platinumpebble.com/
Platinum Pebble (Harwich, Massachusetts)
Craft a quick list of New England's most relaxing destinations and Cape Cod is sure to make the cut. At the eight-room Platinum Pebble boutique inn, guests can experience the popular cape in a more private and serene setting. The inn's welcoming art gallery and sunny lounge combine contemporary and elegant interior design with stylish comfort to present an uber-chic hotel experience.
The Platinum Pebble is consistently rated the best adults-only inn on Cape Cod and Nantucket Sound. Rooms at the inn are designed to be more like a small boutique hotel rather than a typical bed and breakfast. Each guest room has en-suite bathrooms, plush linens, large walk-in showers, complimentary Wi-Fi and air conditioning. Some rooms have gas fireplaces.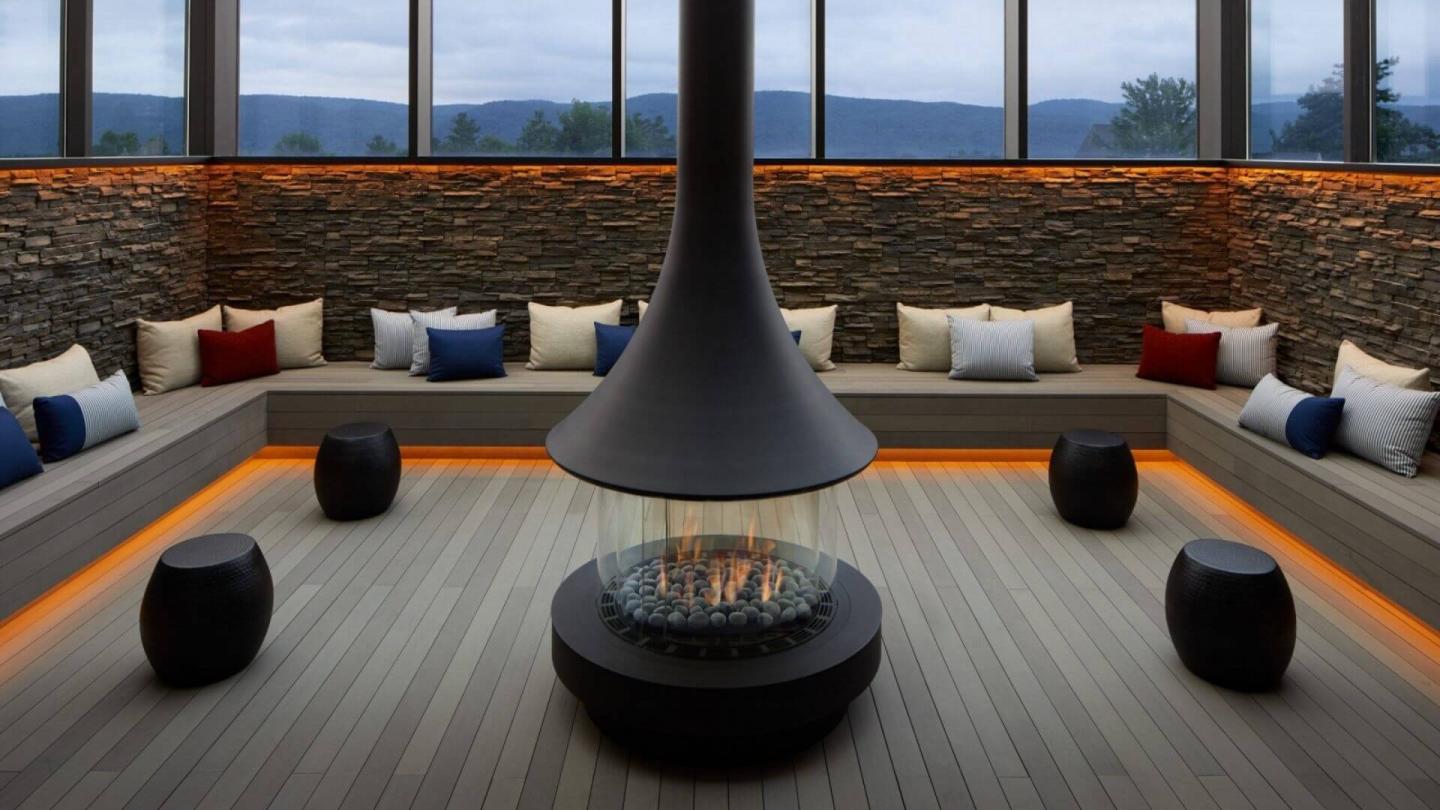 https://www.miravalberkshires.com/packages-specials/day-package/
Wyndhurst Manor & Club (Lenox, Massachusetts)
At the Wyndhurst Manor & Club, traditional sophistication and modern comfort come together to offer travelers a one-of-a-kind travel experience in the beautiful Berkshires of Massachusetts. The 46-room hotel is a Gilded Age mansion that sits high on a hilltop on 360 acres with some of the most breathtaking views in New England. The historic mansion is about 2.5 hours from both Boston and New York City.
Guests can buy a day pass to the Miraval Life and Balance Spa. The spa's menu presents traditional services along with several indoor and outdoor activities, such as the well-regarded and challenging 18-hole championship golf course. There are two savory restaurants at the resort – 1894 Fireside Bistro & Bar and Sloane's Tavern – and several other choices a couple of miles down the road.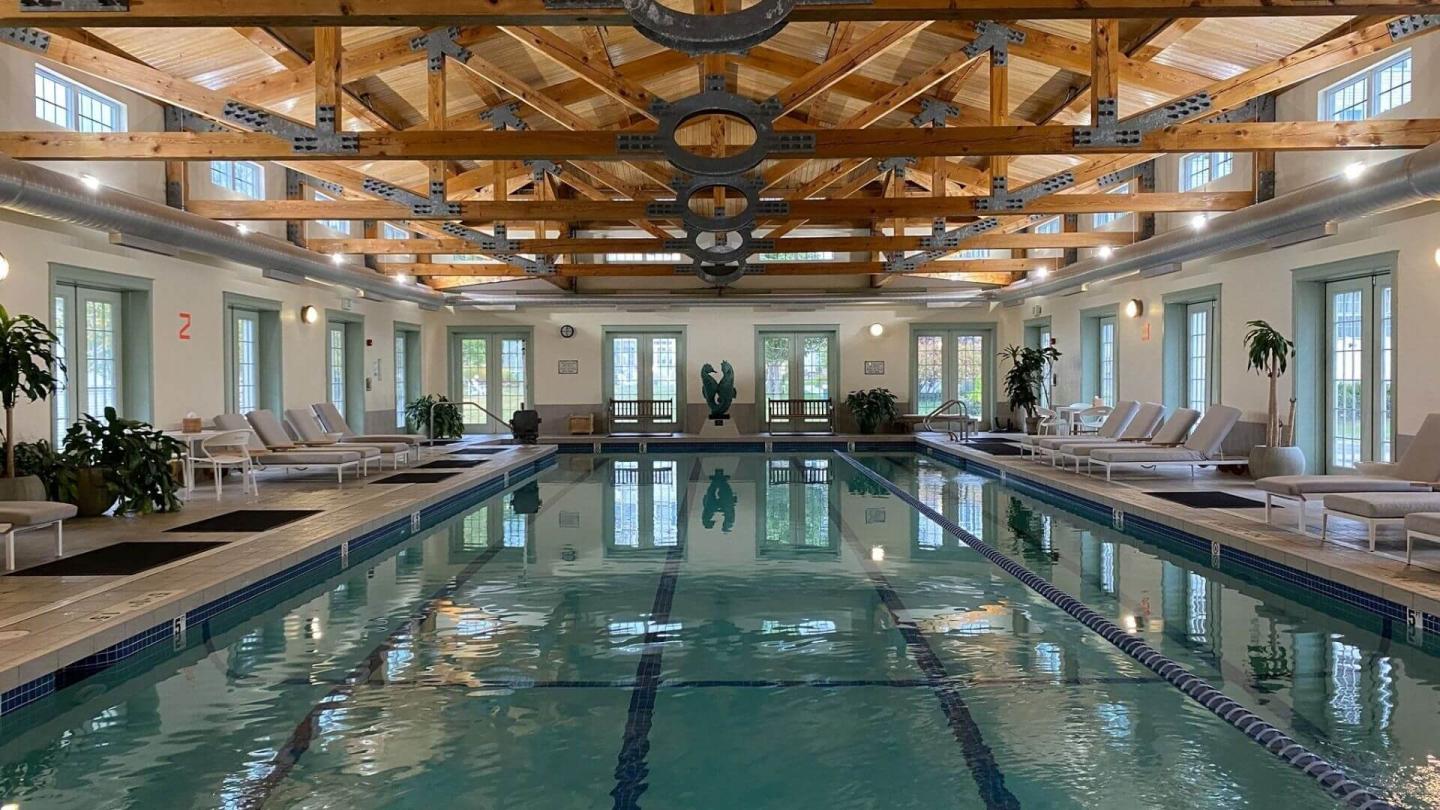 https://www.equinoxresort.com/gallery/
The Equinox, A Luxury Collection Golf Resort & Spa (Manchester, Vermont)
Vermont is an outdoor playground no matter the season. During the summer, there's some of the world's best hiking, boating, fly-fishing, skeet shooting and golf. During the winter, the state presents the East Coast's finest skiing, snowboarding, snowshoeing and cross-country trails. The 195-room Equinox in Manchester, Vermont, is a luxury golf resort and spa with an old-fashioned country charm, a long list of modern travel amenities, and easy access to all the fun.
The hotel has rooms and suites spread across four buildings, each with their own unique appeal. All residences have access to the inn's fitness center, pool and sauna, as well as complimentary coffee each morning, valet parking and free Wi-Fi. For eats, the Chop House fires up juicy steaks and regional favorites.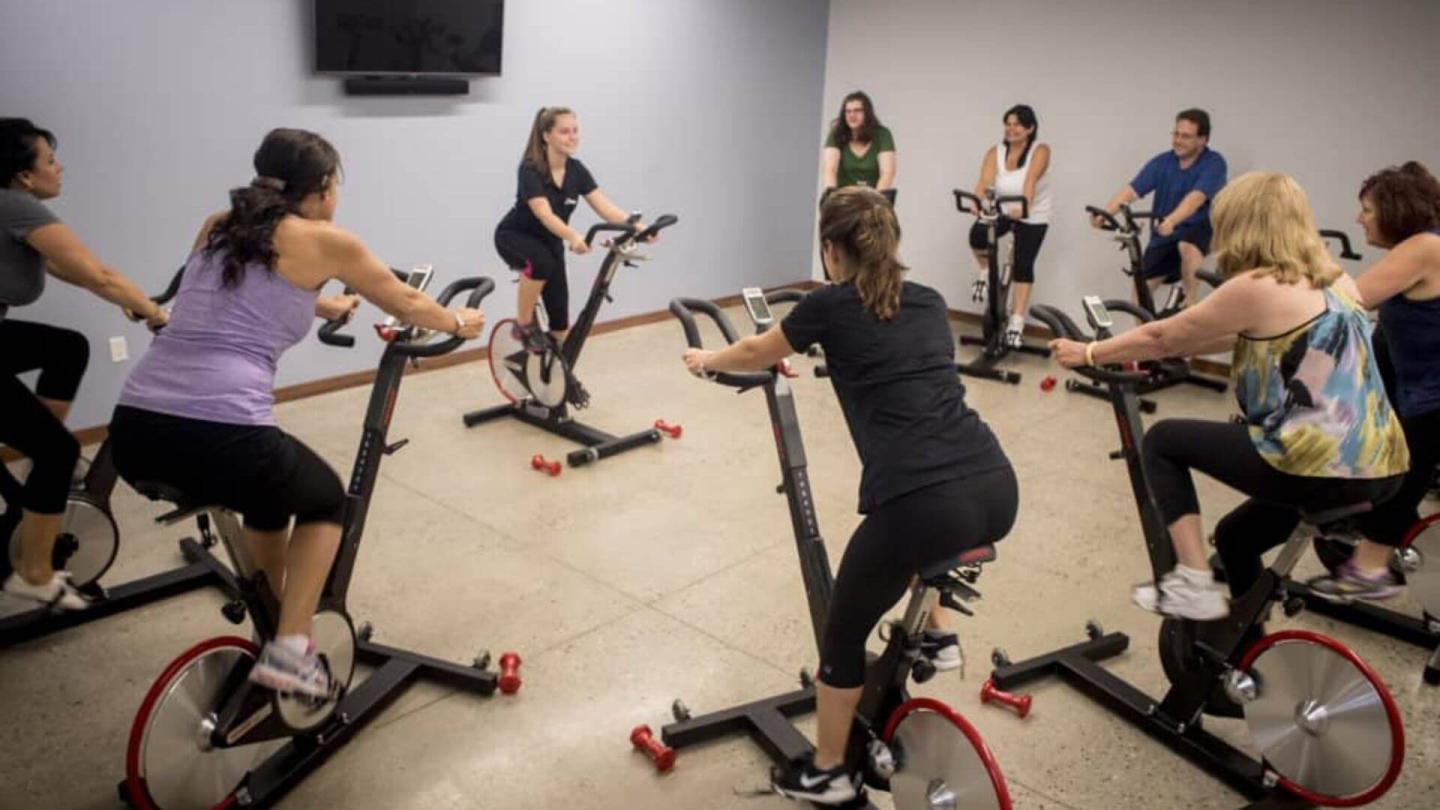 https://plymouth.mirbeau.com/gallery-3/
Mirbeau Inn & Spa (Plymouth)
The 50-room Mirbeau Inn & Spa in Plymouth, Massachusetts, is more like a French estate on the outskirts of Paris than a traditional New England B&B. The property's design, landscaping and interior décor have a rural European flair with a simplistic charm and relaxed functionality.
Guest rooms at the inn feature oversized bathrooms with walk-in showers, soaking tubs, dual vanities and front-row views of the Monet pond garden or the Village Green of the Pinehills community. The 14,000-square-foot onsite spa – Spa Mirbeau – has treatment rooms, fitness facilities and a complete menu of services that will leave you feeling reborn. The hotel's French restaurant plates amazing cuisine for breakfast, lunch and dinner.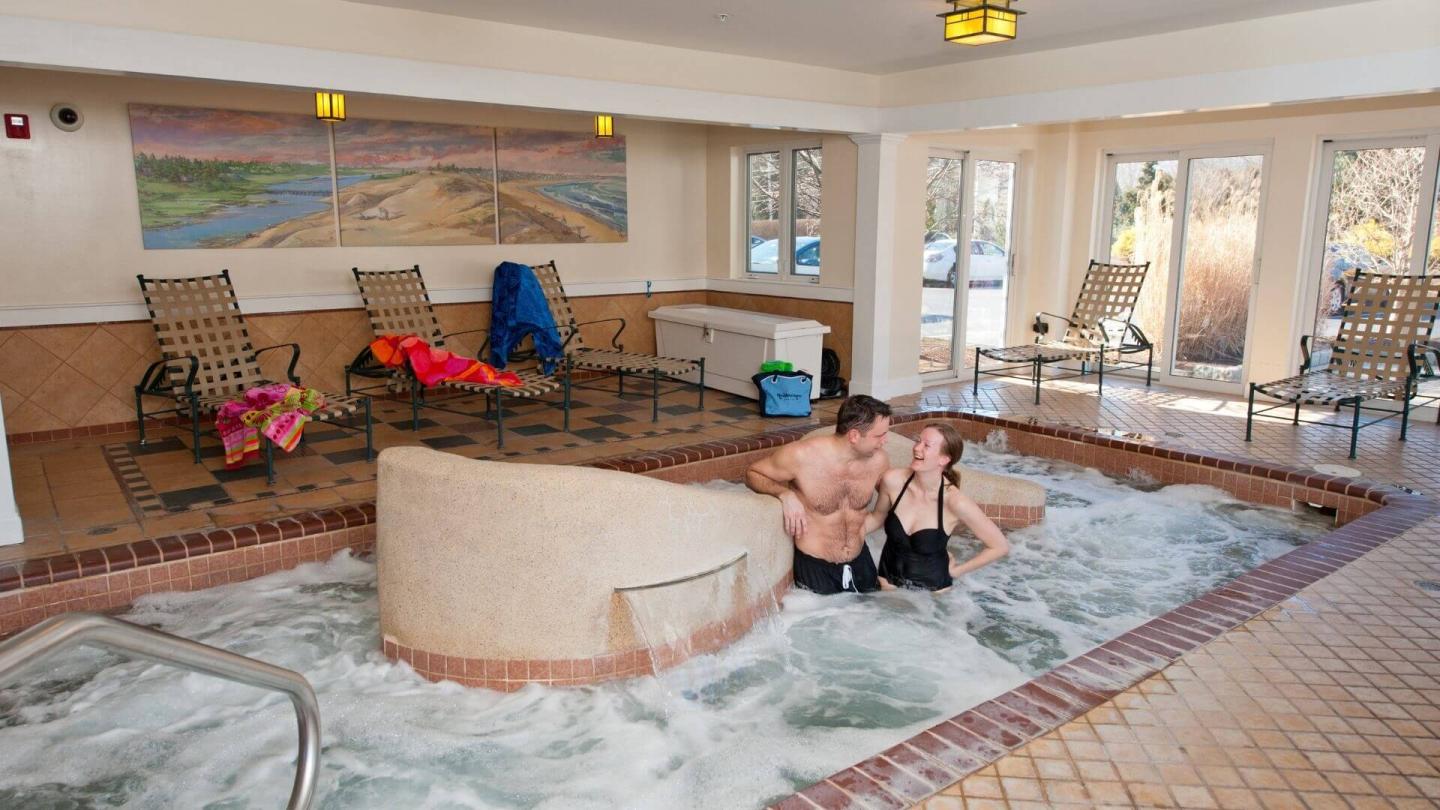 https://www.meadowmere.com/room_amenities/health-club-spa/
Meadowmere Resort (Ogunquit, Maine)
Sometimes all it takes is a sandy beach, a beautiful sunset and a good night's sleep next to the one you love. At Meadowmere Resort in Ogunquit, Maine, guests can kick off their shoes for a sunset stroll along one of New England's most picturesque and pristine beaches. Following a memorable stroll, visitors can retreat to their magnificent accommodations at the luxury inn.
Lodging choices range from double, queen and king rooms to more elaborate options like a fireplace suite, Jacuzzi suites, family suites and honeymoon suites. No matter the occasion, reach of the 144 guest rooms comes nicely appointed with all the amenities you'd find at a luxury hotel. The resort's ideal location puts it near numerous Ogunquit fine dining restaurants.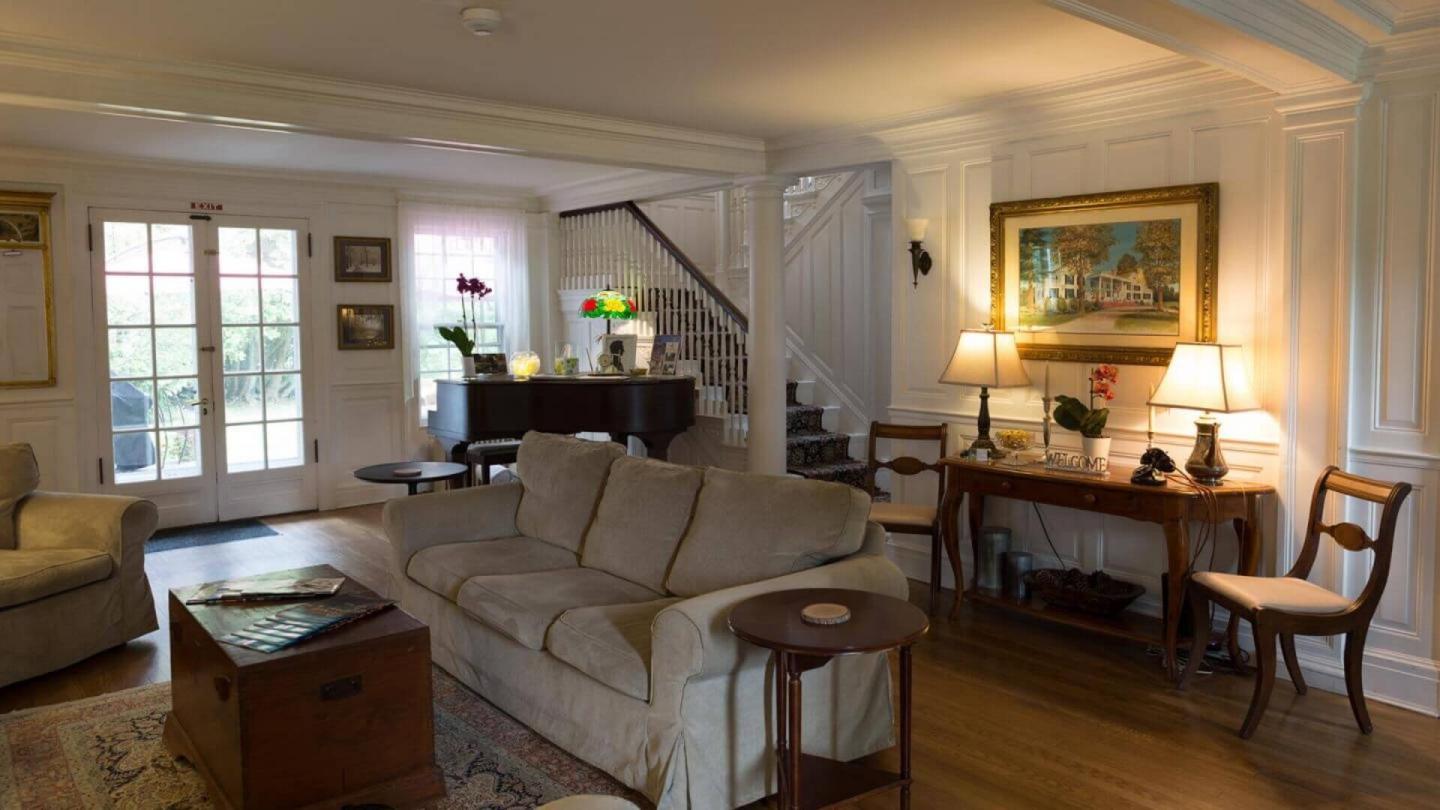 The Inn at Stockbridge (Stockbridge)
The Inn at Stockbridge has put a new twist on the classic country vacation with a quartet of new Barn Suites that set this Berkshires bed and breakfast apart from the rest. Don't worry, there are no live chickens, feed bags or tractors next to your bed. The suites channel a more rural vibe, with lots of rich wood, uncomplicated patterns, clean lines and warm undertones. In addition to lodging at The Barn, guests can stay in a King Suite in the Cottage House or in one of eight more traditional B&B suites in the Main House.
The simplistic beauty of the Berkshires makes it a breeze to unwind and relax. There's fresh air, ample outdoor adventures, plenty of sightseeing, and some of the best cuisines in New England less than 10 minutes from the Inn at Stockbridge.